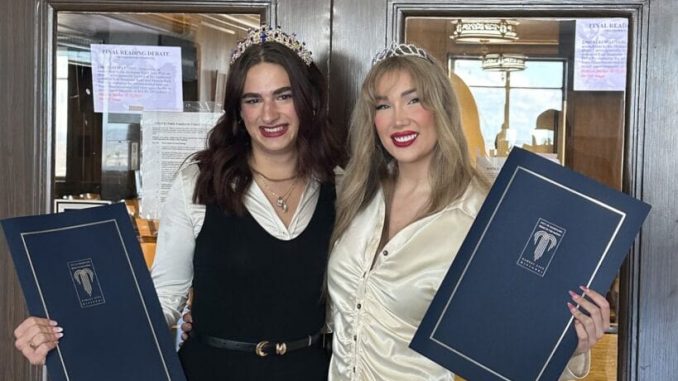 On Thursday, October 27, the Kansas City Council made a significant decision. They passed a resolution to recognize and celebrate two remarkable individuals from Oak Park High School. Tristan Young, a 17-year-old student, and Landon Patterson, a 25-year-old alum, both transgender women, were named homecoming queens at Oak Park High School. The resolution also dedicated LGBTQ History Month to honor their achievements.
Landon Patterson, also known as Lana Luxx, the "Taylor Swift illusionist," made history eight years ago as the first trans student to be crowned homecoming queen at Oak Park High. Now, Tristan Young is following in her footsteps.
Tristan expressed her deep feelings about this achievement on Instagram after being crowned. She mentioned how this honor goes beyond appearances, as her high school journey has been challenging. She credited her friends, family, and the Oak Park community for their immense support.
Landon Patterson, speaking to KCTV in September, described the reassurance and happiness she felt. She emphasized that despite the continued presence of hate, the support from Young's family and fellow students is a powerful force for love.
The LGBTQ community in Kansas City rallied behind Young and Patterson. Notably, Justice Horn, a GLAAD Media Institute Alum and the Chair of the Kansas City LGBTQ Commission played a pivotal role in officially honoring these two trailblazers.
Justice Horn highlighted that when Landon was crowned homecoming queen in 2015, there was a lack of support for her. This time, the community had a chance to make it right by recognizing a 17-year-old and a 25-year-old trans trailblazer.
Tristan Young and Landon Patterson celebrated their historic moment together, holding the city resolution that acknowledged their achievements.
It's worth noting that 1,500 of Tristan Young's classmates voted for her to become the homecoming queen. While the local community celebrated this moment, there were unfortunate instances of anti-LGBTQ accounts engaging in transphobic harassment.
However, Young's community did not let this harmful rhetoric dampen their spirits. This is where Justice Horn stepped in. After witnessing Tristan's well-deserved recognition and the media attention that followed, he was committed to safeguarding her. He believed that more than just issuing statements of support was needed. Therefore, on September 26, he reached out to the Office of Kansas City Councilwoman Andrea Bough, urging the city to "honor, uplift, and empower a young person."