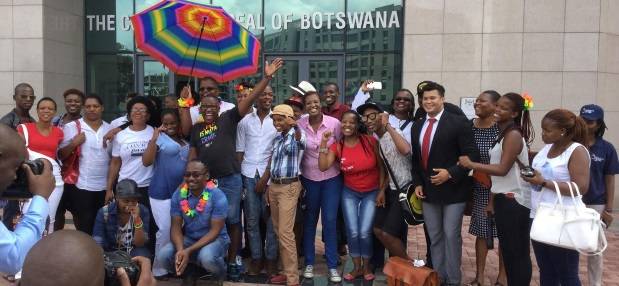 Botswana made legal history when the High Court ruled that the gender identity of the transgender man be recognized in official identity documents according to a Thomson Reuters Foundation report on Wednesday.
"This is an immense relief… I am hopeful that other persons who find themselves in a similar situation will be dealt with in a more respectful manner when they apply for new identity cards," said the transgender man, whose name cannot be disclosed, after winning a 10-year battle to gain legal gender recognition.
Although considered the most democratic among African nations, Botswana has been reluctant in instituting reforms and is yet to constitutionally protect LGBT rights unlike its more progressive neighbor South Africa.
Members of the LGBT community are vulnerable to verbal abuse, lack of access to healthcare system, and suffer injustice through litigations that can be brought against them. They are frequently subject to harassment and even thrown out of their family homes.
The country's penal code still punishes acts deemed contrary to nature, including homosexual relations, with imprisonment of up to seven years.
In his judgement, Justice Godfrey Nthomiwa said that the state violated the man's fundamental rights, including the right to dignity, privacy, freedom of expression, equality and freedom from discrimination and degrading treatment.
The High Court instructed the government to enforce the judgement by reflecting the gender change from female to male on his identity card to respect his constitutional rights.
Southern Africa Litigation Center (SALC), an organization that handles rights cases across the region, supported the case.
The decision is seen to boost the rights of LGBT minority in the conservative southern African nation. Another recent ruling favorable to LGBT advocacy was handed by a lower court in 2014, allowing an LGBT group to register as an organization. The Court of Appeals upheld the decision last year according to Washington Blade report.
In particular, it has made advocates optimistic on the outcome of another legal case of transgender woman Tshepo Ricki Kgositau who is requesting the court for her gender identity to be recognized and for her identity card to be amended.
The man's lawyer, Tshiamo Rantao, believed that the recent ruling will be referred to by the presiding judge when the court will start deliberating Kgositau's case in December.
"This is great victory for the transgender community because many more have been fighting the gender marker battle for years," he said.
In her statements submitted to the court, Kgositau was born a boy but said that she identified as a female at a very young age.
Supporting documents from her family also indicated that her mother, siblings, and relatives embraced her and loved her as a woman.
Because her identity card marks her as male, she said that it caused her emotional distress and increased the risks to attacks of abuse and violence.
Kgositau is the head the advocacy group Gender Dynamix that is based in South Africa.