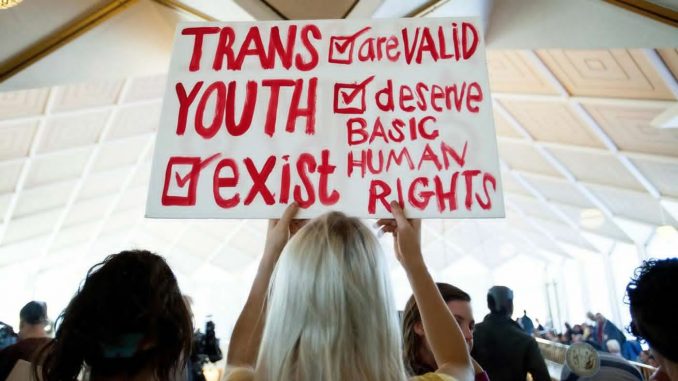 Advocates believed transgender rights continued to be fought as policies and legislations were introduced to make lives of trans individuals more difficult.
Department of Education have recently announced it will no longer investigate complaints of transgender students who were barred from using restrooms and school facilities that aligned with their gender identity.
Ten states have introduced bathrooms bills that would prohibit transgender people from using facilities that align with their gender identity.
After gays rights battles were won and same-sex marriage is legalized, transgender people continue to fight as conservatives shift their focus on blocking equality for trans rights.
In a transgender news by the Los Angeles Time posted on February 19, ten states across the United States of America have introduced bills this year that would make the life of transgender individuals more difficult.
In addition, the Department of Education have recently announced it would no longer investigate complaints of transgender students who were barred from using restrooms and school facilities that aligned with their gender identity.
Pushback of rights of transgender students
National Center for Transgender Equality (NCTE), a trans rights advocacy group, said that there is a noticeable pattern of pushback across the country.
"We're seeing proposals around the country that would make it harder for trans people to go to work, go to school, participate in public life, or even do things as simple as go to the store or go to a restaurant with their family," said Jay Wu, NCTE communications manager.
Wu continued, "If laws like this pass, they can send a message to transgender people and their families that they are not as worthy as their peers and that they don't deserve to have the same rights as everyone else."
For example, news that the Department of Education would no longer investigate discrimination complaints by trans students who were refused to use school facilities matching their gender was nothing new according to Liz Hill, the department's press secretary.
The change in policy was established last year when President Trump retracted Obama-era directive stating that discrimination against trans students is a violation under Title IX. Hill claimed that the policy meant discrimination on the basis of sex, not gender.
"Where students, including transgender students, are penalized or harassed for failing to conform to sex-based stereotypes, that is sex discrimination prohibited by Title IX," Hill explained. "In the case of bathrooms, however, longstanding regulations provide that separating facilities on the basis of sex is not a form of discrimination prohibited by Title IX."
Hill also asserted that it is up to Congress or the court to decide whether gender identity is included in Title IX.
According to Seth Galanter, senior director at the National Center for Youth Law, the shift in policy would deprive trans students of their basic civil liberties. He, together with other activists, also believed that the courts have already decided on the matter with the case involving transgender student Ash Whitaker.
The court's ruling noted, "A policy that requires an individual to use a bathroom that does not conform with his or her gender identity punishes that individual for his or her gender non-conformance, which in turn violates Title IX."
Galanter said that current decision would put economic and emotional burden on transgender students and their parents.
"The Office for Civil Rights has closed its doors to these complaints, and for a lot of people, they can't afford a lawyer, and they don't want to make a big scene in a courtroom," Galanter stated. "They just want their kid to be able to go to school."
Bathroom bills
Meanwhile, legislators have introduced bathroom bills at a state level, seemingly not bothered by the backlash North Carolina faced when it prohibited transgender individuals from using bathrooms that coincide with their gender identity.
Millions of revenue from new employers, conventions, and sporting events were lost because of the decision by the state of North Carolina.
Seven of the ten states have initiated drafting bills that were similar the template made by North Carolina. Alaska and Massachusetts were filing for ballot initiatives in restricting transgender rights.
In addition, Tennessee had four bathroom bills, three of which would require the state to give legal defense for schools and their staff that are implementing transgender bathroom bans.
Two conservative legislators in South Dakota also forwarded a draft censoring the words "gender identity" and "gender expression" among kindergarten teachers in public schools. Additionally, a bill was filed, and later on dismissed, in New Hampshire that would declare all transition-related medical care, such as puberty blockers and hormone therapy, as a form of child abuse.
Galanter said that all of the above examples seemed to suggest that history repeats itself.
"We saw the same thing 60 years ago with integrating black and white kids together. We saw it 40 years ago integrating kids with disabilities into public schools, and now we're seeing it with transgender people," Galanter explained.