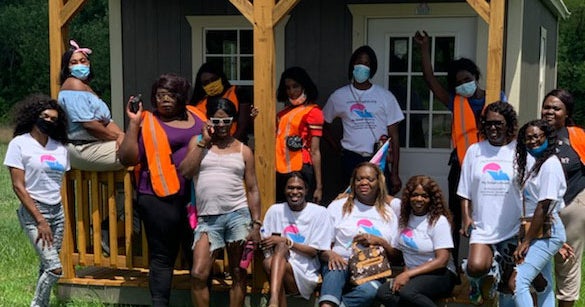 For many trans women of color, homelessness is one of the biggest problems in the USA. There are black trans women who are forced to stay in abusive households and relationships for fear of being homeless.
Kayla Gore, the co-founder and executive director of My Sistah's House, is helping to stop trans homelessness by building one tiny home at a time for trans women of color in Memphis, Tennessee. The organization was founded to help trans and queer people of color by providing stable housing.
The organization has raised more than $600,000 to combat homelessness, including $335,000 through a GoFundMe to build new homes for trans women. Kayla Gore also converted a six-bedroom house she owned into an emergency housing facility with eight beds available for trans and queer people in need of shelter.
My Sistah's House has been around since 2016 and has helped transgender and gender non-conforming individuals, many of whom have been released from incarceration, experienced domestic violence, and/or are experiencing homelessness.
The organization built tiny homes as a cost-effective way to alleviate homelessness. The founders and the members work together to plan and design the houses with the approval of the housing justice committee.
"Our members have been able to move furniture around, move walls around, put windows in different spaces to see what kind of effect [they'll have]," Gore explains. "Because they are going to be the inhabitants, so we want them to be involved throughout the whole [design] process."
"There's still discrimination against trans and gender-nonconforming people in terms of access to services, even though I do think things are getting better," Kayla said, looking to a future when no one faces discrimination because of who they are. "There are still places where there needs to be a lot of improvement, but we're seeing health care providers come to the forefront as trans and nonbinary folks shine a spotlight on this. Providers see a need and want to fill that need."
"Things are advancing," she said. "They're not where they need to be, but they're definitely not going stagnant, and they're definitely not moving backward – they're advancing."
According to the 2015 U.S. Transgender Survey by the National Center for Transgender Equality, around 42% of trans people experience a form of homelessness in their lifetime. Organizations such as My Sistah's House, Brave Space Alliance, and Sisters PGH all aim to make sure that everyone in the trans community has a place to call home.