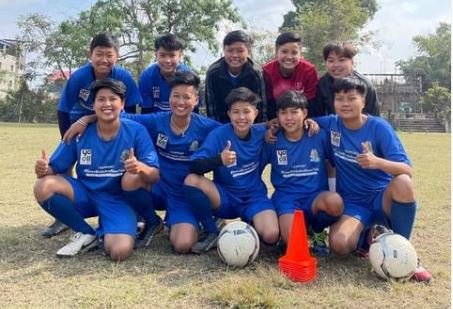 The first-ever all-trans football team is changing the narrative for transgender people in the Northeast corner of India.
Hailing from Manipur, a non-government organization called Ya-All (a word that means 'revolution' in the local language) has created a safe space for queer folk through sports.
Ya-All has assembled the first all-trans men's football team — which was also named after the NGO — despite the discrimination and bullying they go through as trans men. The team has 14 members who share a passion for football, most of whom were in college when they started forming the team.
Many of the team members shared that their struggles have to do with their family and friends not accepting their gender identity. But they have found a new family through their teammates.
CEO and founder Sadam Hanjabam said it took three years to form the team. The aim of forming the team was to spread awareness about the LGBT+ community and break stereotypes.
Hanjabam expressed that it was not an easy task because society still finds it difficult to accept the third gender. A Supreme Court ruling, however, decriminalized homosexuality which was a big help in making the team possible.
"Homophobia is still rife in Indian sports," Hanjabam said. "My mission is to create a queer-affirming environment for people of diverse gender and sexual identities to compete in."
Hanjabam also said that apart from funding the team, the money raised through participating in tournaments will be used for projects to support LGBT+ individuals. These projects will focus on providing a safe house where livelihood skills are taught and where homeless LGBT+ in the Northeast of India can find shelter.