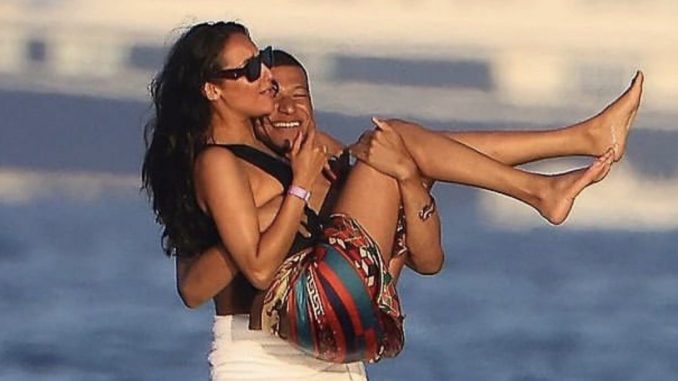 Kylian Mbappe, the PSG and France striker, is reportedly dating model Ines Rau. The two were spotted at the Cannes Film Festival. Then photos of the famous couple on a yacht also became viral as Mbappe is seen carrying Rau in a romantic embrace.
Mbappe is known to be one of the most famous football stars alongside Neymar and Lionel Messi. He almost signed a deal with Real Madrid. However, his current team offered him a more lucrative deal that signed up for instead.
Though Mbappe is quite famous, he keeps his personal life private. It was only until recently that his personal affairs became an issue when the pictures of him with Rau was released by the Italian media.
Rau is also famous in her own right, being the first transgender model to appear on the cover of Playboy magazine. Her first appearance was in 2014, when she posed nude.
Rau, who has expressed her desire to work in Hollywood, started transitioning at the age of 17. But she only came out as transgender when she was 24. Rau also shared her challenges with being trans and dating.
"I lived a long time without saying I was transgender," Rau says in the accompanying interview. "I dated a lot and almost forgot. I was scared of never finding a boyfriend and being seen as weird. Then I was like, You know, you should just be who you are."