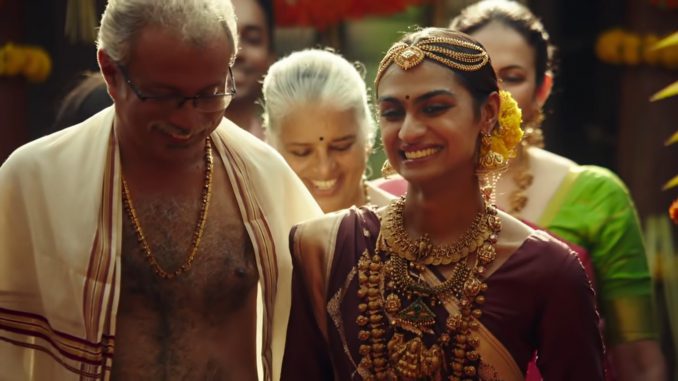 A jewelry advertisement in India starring a trans woman has touched the hearts of many.
Bhima Jewellers have been in the industry for around 96 years. Over the years, they've featured many cisgender brides in their advertisements. But this was the first time they showed the story of a trans bride.
The one minute and 40-second video tells the story of a trans woman's transition – from an awkward teenager with facial hair to a beautiful and confident bride. Throughout her life, her family gives her gold jewelry with each milestone.
The video entitled Pure as Love has been viewed more than 1.4 million times on Instagram and over 900,000 times on YouTube. The commercial has received an overwhelming positive response since it was released in April.
Meera Sinhania Rehani, the 22-year-old lead actress, came out to her family in 2019. She is currently a sociology student at Dehli University and a part-time model.
When she first heard of the concept for the advertisement, she expressed that she was skeptical.
"I didn't want someone to appropriate my trans identity for commercial use. I was also nervous since the film involved transition and as a pre-transition person I'm shown as a man with a beard.
"But when I read the story and researched about the director, I said yes. And I'm glad I did. Doing this has also helped me become more comfortable with myself," she said.
Meera was expecting the ad to receive backlash especially since the ad featured a Hindu wedding that challenges the Hindu heterosexual patriarchal system. Previously, another jewelry ad by another company that featured an interfaith couple was withdrawn due to backlash from the right-wing audience.
Despite the Supreme Court ruling in 2014 declaring equal rights for trans individuals under the law as people of other genders, they still face discrimination and violence. Many trans people are disowned by their own families and scrounge around to make a living by singing and dancing at weddings, begging, and prostitution.
But with Bhima Jewellers' efforts to feature trans stories such as Pure as Love, there might be hope for more acceptance and tolerance towards the trans community. This definitely is one small step towards progress in conservative India.