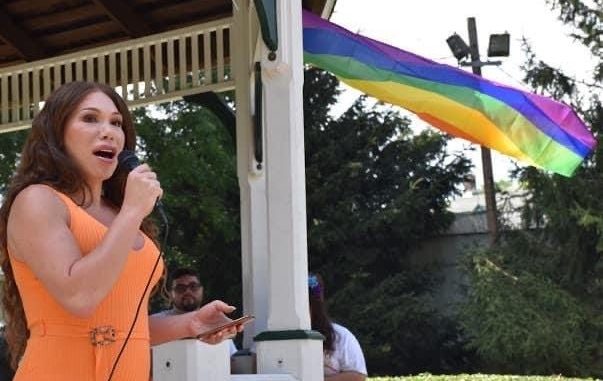 A former Miss Gay winner is getting ready to take on her first new role as the first openly transgender woman to win a seat on Dover's Board of Education.
Daniella Mendez, 33, advocates for inclusion and diversity and was a former pageant winner, a mentor, a performer, and a spokesperson.
She never imagined she would be part of politics. But her advocacy has led her to become more active in different projects. She became an advocate for AIDS and HIV after she won Miss Gay New Jersey in 2016. She also became a spokesperson for the Beacon Light Fund, which offers financial assistance to people who have AIDS or disabling HIV disease. Prior to the pandemic, she raised funds as an entertainer at restaurants. But when the pandemic hit, she wanted to do something more for her community.
"I moved to Dover a few years ago, and this community has been one that has poured so much love into me. So I thought that this would be a great way for me to give back to a community that has shown me so much love."
As a teen, she had a difficult time in school because of her gender identity. She recalls not having the emotional or mental support that would help her as a student. She dropped out of high school. But earned her GED later on. She wanted to be on the school board to ensure students get a better educational experience than she did.
"I want to make sure that students don't have to go through what I went through," Mendez said. "I want to make their educational journey better than mine was."
This year, the Dover school board plans to let educators include LGBTQ lessons and focus on people with disabilities in the curriculum. Mendez will work with the school board to implement the curriculum. She also plans to include diversity among teachers and staff.
"It is my hope that every program policy and budget up for consideration makes a positive impact on marginalized students. We need more Black and brown teachers."
Lastly, she shared her thoughts on representation and what she can do for trans students.
"I believe that representation matters and my hope is that any student, but specifically trans students struggling with identity questions or feeling alone, can look to this moment, can look to this historical action, and realize that they have someone who understands their journey and will make sure that they have the support and the tools necessary for a healthy educational journey."
She starts her work on the Dover Board of Education after her formal appointment on Jan. 4, 2022.