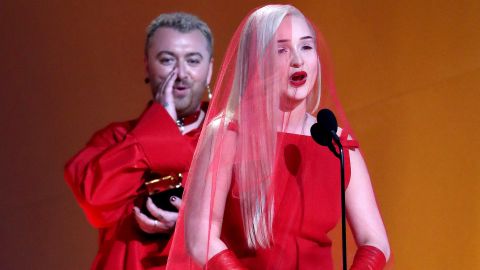 Kim Petras announced that she is the first trans woman to win a Grammy in the best pop duo and group performance category while she received the award with Sam Smith for the song Unholy.
The track Unholy became popular on Tiktok in 2022 for its catchy beat and lyrics. The song featured on Smith's album Gloria was the first No. 1 hit for Petras in the United States.
While receiving the award, Petras thanked Madonna who is known for being an advocate of LGBT rights. She also thanked the transgender legends who paved the way for other trans artists like her. Petras mentioned the late transgender singer Sophie who died in an accident in 2021 at the age of 34.
The last she thanked on her list was her mother for accepting her trans identity.
"I grew up next to a highway in nowhere, Germany, and my mother believed me that I was a girl, and I wouldn't be here without her and her support," Petras said.
But the pop duo is now in hot water after their performance of Unholy at the awards night. During their performance, they were dressed in red leather and wore hats with horns — which many viewers linked to devil worship.
The performers were surrounded by backup dancers with whips and Petras was seen donning satanic headgear while in a cage. Many viewers found the performance "anti-Christian" and reported it to the Federal Communications Commission (FCC).
After their controversial performance, Petras stated that the reason for their creative decisions stemmed from being rejected by the religious community.
"I think a lot of people, honestly, have kind of labeled what I stand for and what Sam stands for as religiously not cool, and I personally grew up wondering about religion and wanting to be a part of it but slowly realizing it didn't want me to be a part of it," Petras said in an interview.
"So it's a take on not being able to choose religion. And not being able to live the way that people might want you to live, because as a trans person I'm already not kind of wanted in religion. So we were doing a take on that and I was kind of hellkeeper Kim."