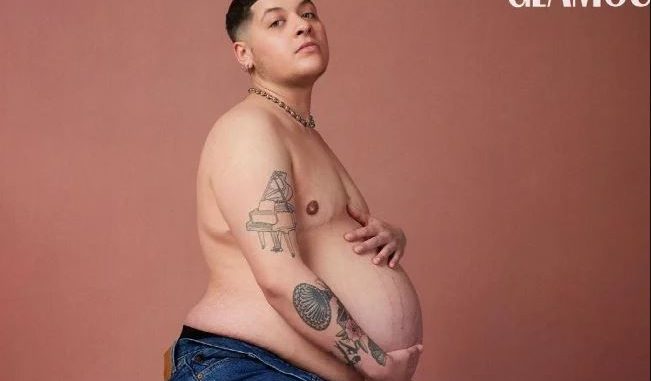 Glamour UK magazine has made a groundbreaking choice by featuring a pregnant transgender man on the cover of its June Pride digital issue. The cover star, Logan Brown, an accomplished author, has shared his extraordinary journey as a transgender man navigating the unexpected experience of pregnancy alongside his partner, Bailey J Mills, a renowned non-binary drag performer based in the United Kingdom.
In the in-depth interview, Brown candidly recounts his personal narrative, providing readers with a profound insight into the complexities and triumphs of his pregnancy as a transgender individual. Through his compelling story, he offers a glimpse into the unique challenges faced by transgender men during this transformative period, offering a powerful testament to the resilience and determination of the LGBTQ+ community.
The visually striking cover showcases Logan Brown adorned in a hand-painted suit, reminiscent of the iconic 1992 Vanity Fair cover featuring Demi Moore and captured by the renowned photographer Annie Leibovitz. This artistic portrayal not only celebrates Brown's individuality but also serves as a symbolic representation of pride and inclusivity, boldly asserting the presence and visibility of transgender experiences within mainstream media.
Within the pages of Glamour UK, readers are immersed in a multifaceted exploration of Logan Brown's narrative. Accompanying the interview is an Unfiltered video, offering a dynamic and unfiltered account of his journey. Brown eloquently shares his personal transformation, recounting pivotal moments of self-discovery, his serendipitous encounter with TikTok star Bailey J Mills, and the profound love that blossomed between them. The interview culminates in the joyous birth of their baby daughter, powerfully illustrating the boundless capacity of love and challenging traditional notions of family dynamics.
Glamour UK's decision to feature a pregnant transgender man on its cover exemplifies a progressive trend within the fashion and media industry, emphasizing inclusivity and the amplification of marginalized voices. By centering narratives that defy societal norms, the magazine continues to push boundaries and foster dialogue surrounding gender identity, ultimately contributing to a more inclusive and accepting society.
As the world commemorates Pride Month, Glamour UK's June digital issue serves as a poignant reminder that love transcends boundaries. Logan Brown's remarkable story embodies the strength, resilience, and unwavering spirit of the LGBTQ+ community, empowering readers to embrace their own authenticity and live unapologetically. This timely feature underscores the significance of visibility and representation, encouraging individuals to celebrate diversity and challenge societal expectations, both within the LGBTQ+ community and beyond.