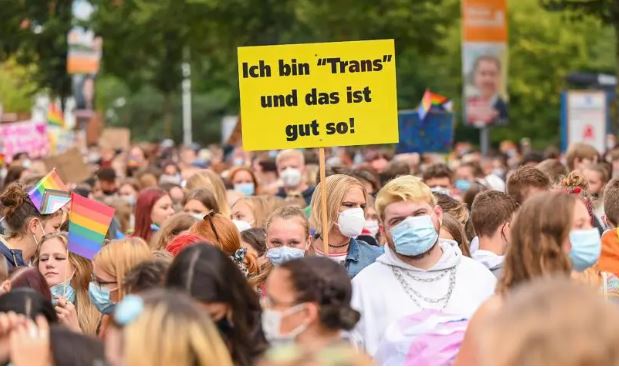 Germany's Federal Cabinet has approved plans to simplify the process for transgender and non-binary individuals to change their name and gender, following a year of legal challenges.
The proposed legislation, known as the Self-Determination Act, is designed to streamline the procedure for trans and non-binary individuals to update their names on official documents like birth certificates and death certificates.
Marco Buschmann, the Justice Minister representing the Free Democratic Party, spoke to the German news outlet ZDF television on August 23rd. He expressed his belief that the current system is demeaning, highlighting the intrusive nature of the questioning individuals often face about their personal aspects like sexual fantasies and underwear preferences.
Buschmann stated, "Just think about wanting to lead your life peacefully, without any ill intentions towards others, and yet being subjected to questions about your intimate thoughts and clothing choices. Our aim is to simplify the lives of a small community for whom this holds immense importance."
Under the current 40-year-old 'transsexual law' in Germany, individuals seeking legal recognition of their gender are required to obtain evaluations from medical professionals who possess a sufficient understanding of the unique challenges associated with transsexuality. This is followed by a court process that may or may not result in the approval of their request.
Although the new legislation still needs approval from parliament, it's been in development for more than a year. This holds the promise of making changes to legal gender much simpler for trans individuals. If given the green light, trans citizens of Germany only need to visit a registry office to update their gender. The process will take about three months before the change becomes official.
There are also special provisions being considered for minors. Those who are 14 years and above must have the consent of their parents or legal guardians. In cases where parents do not give their consent, minors can take this up to a family court. For minors below 14, they need direct authorization from their parents or guardians who will initiate the request.
Buschmann emphasized that he has a strong belief that parents would be responsible and make this decision with the child's well-being in mind.
The bill was introduced on June 30, 2022 alongside a set of laws safeguarding LGBTQ+ rights.