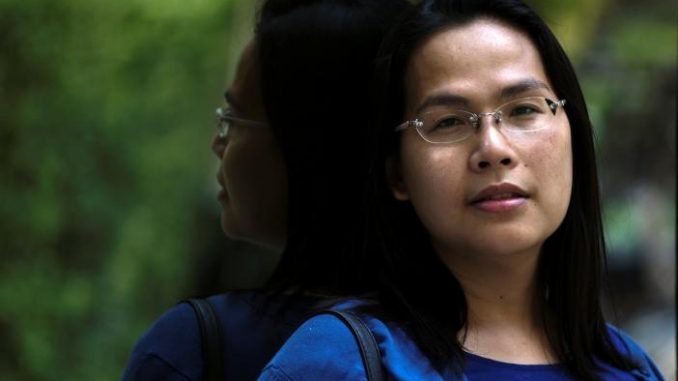 Thai transgender activist Nada Chaiyajit, 37 years old, completed her undergraduate studies at the University of Phayao in northern Thailand in August 2016, but her university refused to issue her graduation certificate. The reason: she submitted a photo where she looks like a woman, whereas her identity card says she's male.
The university's administration asked her to submit new photos in which she'd tie up her hair and wear a tie to "make herself look like a man".
"If I tie my hair back and wear a tie, then it doesn't belong to me. This belongs to me" she replied while pointing out at her body.
Nada recalls when she told the school officials about her sex reassignment surgery (SRS), they replied the process would be straight forward. But Nada didn't want her SRS to be a requirement for dressing and being acknowledged as a woman. "I said no, you can't say that. Gender expression isn't about genitals. Gender expression is about self-determination," she said. Indeed, not all transgender people can afford the surgery, and not all transgender people even desire it.
Many Thai transgender students comply dressing as a man, or petition to dress as woman on the ground of gender identity disorder.
At first, Nada refused on principle to bring her case up on the basis of having a psychological disorder. She considered doing it anyways only because she wanted to apply for the Chevening scholarship in Britain and deadlines were approaching. But then she was convinced to pursue and set a precedent by one of her mentors, a prominent Thai human rights lawyer. "You help trans people access justice," she recalls him telling her.
Therefore, in a unprecedented case, she asked her school to issue her documents in line with the gender she chose, based on rights rather than mental illness. Her school finally accepted her request in December.
"When you want to fight, you have to know what documents or evidence you need to put together. I used all the lessons my law school taught me," Nada said in an interview with Reuters.
For many, Thailand is seen as a "paradise" for LGBT (lesbians, gays, bisexuals and transgender people), with transgender women prominently visible on TV, beauty pageants, cabarets shows and in jobs such as hair salons and cosmetics shops. Yet things are not perfect and Thai bureaucracy is still in the process of adjusting to the rights of their transgender population.
The situation is similar in the Philippines (also with a very visible and tolerated LGBT population) and most other Asian countries.
Since Nada's case resolution last month, 10 more transgender students from her university already petitioned on the same grounds, paving the way for Thai transgender students to get their documents according to their gender identity.
Last Friday Nada received the documents in person from the school officials.