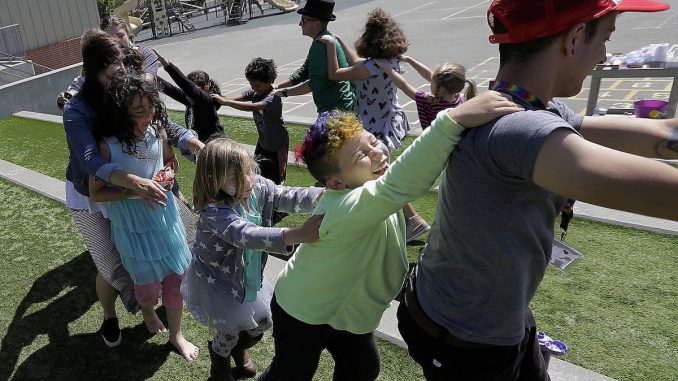 Psychologist Kristin Olson of University of Washington was awarded the Alan T Waterman Award by the National Science Foundation.
She received the grant money of $1 million, which she hoped would allow her to continue her study tracking the development of 300 children for 20 years.
The decision to award her was a unanimous choice considering her broad areas of her research, particularly those that were widely cited by many paediatricians who are campaigning for awareness on transgender issues among children.
A study that aims to better understand the challenges confronting children who identify as transgender has been awarded a $1 million grant by the federal government according to a transgender news article by KMOV website posted on April 18.
The work of psychologist Kristina Olson of University of Washington, considered as the first ever large-scale study of trans children, was given the grant by the National Science Foundation (NSF), with Olson winning the annual Alan T Waterman Award.
Awareness about transgender children
Her win was historic, as Olson was the first psychologist to receive the Waterman Award, a distinction given to scientists who are in the early stages of their career.
According to the NSF, the decision to award her was a unanimous choice considering her broad areas of her research, particularly those that were widely cited by many paediatricians who are campaigning for awareness on transgender issues among children.
Olson was also the founder of TransYouth Project, an ambitious long-term study of transgender children in the United States created in 2013. Its goal was to track the development of 300 respondents between the ages 3 and 12 years old from 45 states in over 20years.
With the grant money, she hoped she could expand her research and would shed light on the plight of transgender youth.
In addition, she hoped to be able to sustain the project and may even continue to monitor their lives as they enter adolescence and into adulthood. In particular, she would expand to include those who are transitioning but haven't completed the procedures, support undergraduates in their research, and cover topics such as race and inequality.
"'Transgender children' is a category we have so little scientific knowledge about," she explained. "I'm interested in their experience of feeling you are in a social category that other people don't think you're a part of."
Transgender children and positive support systemMost notable finding revealed by her research is how family support impacts positively on the well-being of transgender children.
In an article published in the peer-reviewed journal Pediatric two years ago, 73 transgender children suffered incidence of depression and anxiety no differently than cisgender children in control groups.
They were allowed to live openly with their gender and were supported by their respective families, informing Olson that family support was instrumental in mitigating negative health impacts found in other studies regarding transgender young people.
"In a very scientific way, our study shows that this group of kids is doing really, really well," she stated.
TransYouth Project
TransYouth Project had been welcomed positively after her article was published in Pediatrics. Cheryl Kaiser, the chair of University of Washington psychology department, described it as a striking act of bravery.
Nevertheless, it had become the target of criticism too. It was called out for including the study on the gender of a three year old child who was described to be too young to discern such issues.
"I am highly suspect of allowing children to be mature agents in determining this level of self-understanding," Andrew Walker of the Southern Baptist Convention's Ethics & Religious Liberty Commission, said. "That seems to be highly problematic and borderline reckless… putting drastically catastrophic decisions about a child's life in the child's hands."
Walker also decried the use of government funds on gender fluidity, which he asserted was an ideological, contestable issue.
However, Olso claimed children that young could show expression and awareness of gender identity including how they describe themselves, clothing, and their choice of playmates.
Before the study, the children already adopted a new name and had shown predisposition to clothes, toys, activities, and friends that align with the gender different from the one assigned at birth.
"People frequently compare early-identifying trans children with those who go through phases of believing they are cats or dinosaurs or who have imaginary friends," Olson said. "Yet decades of work on gender development suggests these are precisely the ages at which nearly all kids are coming to understand their own and others' gender identities."
Refuting the claim that surgeries were performed on prepubescent children, she stressed that the parents were the ones who helped decide on transition.
The criticism became so bad on social media and her email she avoided being interviewed by the media for months.
"It doesn't feel good to have people saying negative things about you," she remarked. "You just have to keep going."