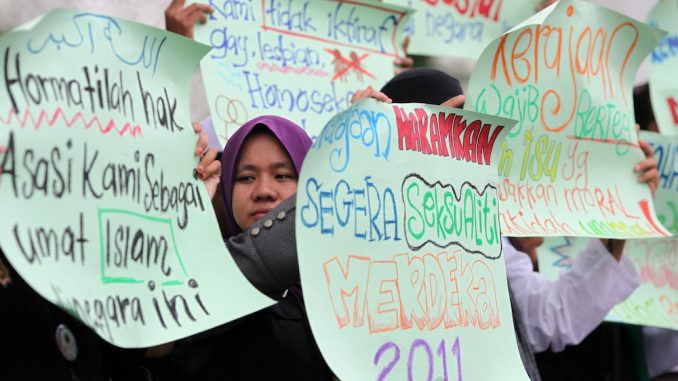 The state of Terrenganu is poised to implement transgender conversion plans with the hope of rehabilitating transgender people back to what the state considered as normal.
LGBT advocate criticized the move, stating that it will bring more harm than good to the members of the transgender community.
Experts have widely viewed conversion therapy as potentially damaging and a form of pseudoscience.
The Malaysian state of Terengganu is drawing out a plan to conduct a census of the transgender community with the goal of providing a rehabilitation program, a move that received condemnation from LGBT advocates.
In a transgender news article by the The Malay Mail Online published December 9, transgender activist Nisha Ayub of Just for Sisters criticized the announcement of state authorities on the proposed transgender conversion plan.
Ghazali Taib, Terrengganu state executive committee member, revealed in an interview that the state was organizing an awareness course with the objective of bringing members of transgender community back to the right path.
Community census and transgender conversion plan
Ghazali was quoted in an interview that the state is pushing for a census next month to gain insight into the size of the transgender community.
The state will work on the course to identify and rehabilitate transgender individuals in coordination with the Village Development and Security Committee, the police, and state Islamic authorities.
Additional details from Agence France-Press and published on the same publication revealed that the course will run for several days and will commence after the census.
Ghazali said that participation will be voluntary.
The program will also have medical, psychological, and religious experts as well as transgender women who have converted back to normal lives.
"Transgender women are part of our society…. They are our responsibility," Ghazali Taib said. "At the end, it is up to them to make a choice. The government's concept is not (to) force. (We) give them a path to make the best choices for their lives."
While there are no official figures of the transgender population in Malaysia, a health ministry document showed that there are about 24,000 transgender sex workers as of 2014.
A 2017 Human Rights Watch report wrote that discrimination against LGBT population in the country is pervasive.
Appropriating religion for discrimination
Nisha slammed the plan, stating state authorities must instead educate themselves on sexual orientation, gender identity, gender expression, and history of the transgender community.
"Stop assuming that you can change a person into the mould of your own beliefs or understanding. This is not about a puppet but about a human being," she wrote on her Facebook page. "They need to see that actually we the community are not the problem, but it's the system that they created that causes the problems to the community."
Furthermore, Nisha said that the issues the community is facing are due to being denied of their rights to their own gender identity and to the way religion is used to dictate lives and to discriminate against them.
She continued, "This is not the matter of religion but it's a matter of being inclusive towards your citizens from different diverse backgrounds towards the developments, health and economical point of view."
"They would also need to look into why all the previous corrective approaches did not manage to so-called change the community and bring them back to whatever right path…. They need to know that all this kind of correction approaches and trying to change our gender identity does not help but create more harm to the community," she added.
Conversion therapy
In 2014, claims from spiritual camps by Islamic authorities had touted success in addressing transgenderism and were deceptively offered as outreach programs that turned out to be rehabilitation programs.
Medical and gender experts also expressed doubts on the success of such programs and instead urged that the medical care transgender individuals need is to transition to their preferred gender identities rather than converting to what the state considered as normal.
The medical and scientific community has widely viewed conversion therapy, which includes psychological treatment and spiritual counselling with the hope of changing one's sexual orientation or gender identity, as potentially harmful and a pseudoscience.
Countries like Australia, China, Lebanon, United Kingdom, and United States have opposed, legally challenged, or even banned such practice.