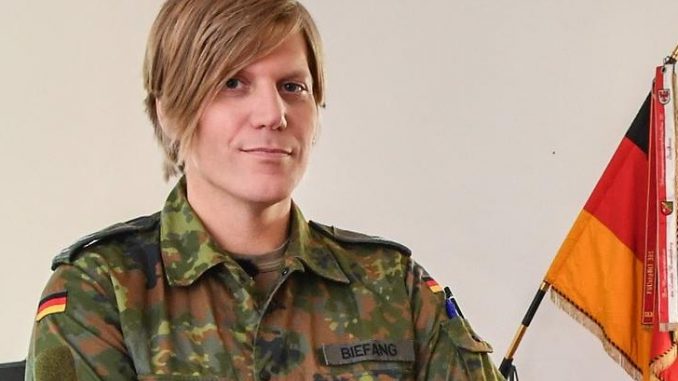 Anastasia Biefang is hailed as national role model as she serves as lieutenant colonel commanding a 700-strong unit in German military.
U.S. allies slammed Trump's transgender military ban.
Germany dropped the ban against LGBT members from joining the military over two decades ago.
"I finally reached the point where I realized that I couldn't continue with this."
This was the statement of Anastasia Beifang, Germany's first transgender service woman who commands an entire military unit, in a featured transgender news that appeared on Washington Post last Saturday.
"The mechanisms I had developed to deal with it didn't work any longer and I was really unhappy with myself," she explained.
Beifang, 43, joined the army over two decades ago as a man. Today, she is a lieutenant colonel commanding an information technology unit of more than 700 soldiers.
Coming out in 2015, she waited twenty years to tell her superiors and then her entire unit about her gender identity despite her fears of possible negative consequences on her career.
However, she was surprised with the level of support she received. Bundeswehr, Germany's military, hailed her as a national role model.
Her coming out made her the first transgender commander under Defense Minister Ursula von der Leyen, who considered it a top priority for the military to support transsexual and homosexual personnel.
Participating in a joint effort with her superiors after acknowledging that it was their first time to deal with her case, she said, "For example, nobody could say at what point [during my transition] I would start being allowed to change my hair… There were no concrete guidelines at the time, so I developed them together with my superiors."
"People who hold fears aren't able to give their very best. We can't afford that," von der Leyen said earlier this year, echoing similar statement of then-U.S. Defense Secretary Ashton B. Carter who lifted the transgender military ban in 2016, saying, "Our mission — which is defending the country — has to come first."
Transgender in military
Biefang's male to female transition came at a time when there was marked openness among top military brass in countries like Germany and the United States allowing transgender troops to serve openly.
At least other 18 countries have similar admission policy for any transgender individuals who are willing to join the military, including ten National Atlantic Treaty Organization (NATO) members: the Netherlands, Norway, Belgium, Czech Republic, Denmark, Estonia, Britain, Spain, France and Germany.
The U.S., however, took a different path than Germany as President Donald Trump attempted to ban transgender individuals from military service last July, citing rising medical costs and disruption on military readiness.
Trump's claims were also unsupported by research. "None of the militaries that we examined reported a negative impact on the operational effectiveness, operation readiness, or cohesion of the force," said political scientist Agnes Gereben Schaefer, who co-wrote the study commissioned by the Rand Corporation.
"Many U.S. allies lifted their bans on allowing transgender service members to serve openly many decades ago," Shchaefer pointed out.
German Chancellor Angela Merkel criticized the U.S. president, saying that Europe could no longer rely on others and urged that they have to take fate into their own hands.
"It felt like a smack in the face," Biefang told the Washington Post about her reaction when she heard Trump's decision.
"What do I win as an employer if I have someone who's forced to hide his or her private life?" Biefang continued. "If you tell people that they are being accepted the way they are, that will create a really strong bond between an employer and an employee."
LGBT in German military
Members from the LGBT community were banned from serving in the German military until about twenty years ago, a historical fact that feeds into the fears of the estimated 1,300 transgender German soldiers that coming out would be harmful to their career and result in discrimination.
Biefang recalled this part of country's military history as she led a double life then. Joining the military when the ban was still in effect, she had to present a front as a husband and a career-oriented soldier.
After work, she would make her way to the cupboard where she stashed her female clothes.
The ruling made by European Court of Human Rights 1999 regarding discrimination against homosexuals forced Bundeswehr and other European militaries to accept LGBT troops despite opposition from top generals.
Progress in implementing the new admission policy in the military sped up after the German government abandoned conscription six years ago.
Facing shortage of applicants by relying on volunteers, it has since revamped its image to a family-friendly and tolerant organization to compete with large businesses and start-ups.