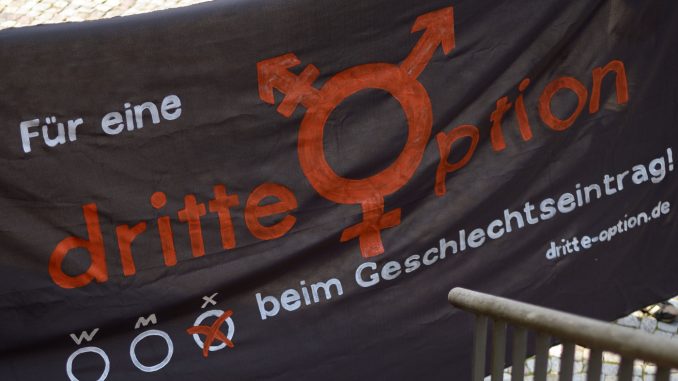 The country's highest court directed the legislature to pass a law recognizing the third sex by the end of next year.
Ruling stated the importance of recognition for intersex people to protect them from discrimination.
Advocates welcomed the new ruling, hoping that this will pave the way in reshaping thinking regarding a sex other than male or female.
Germany's highest court ruled government-issued documents must allow citizens to choose a third sex, becoming the first country in Europe that establishes judicial recognition for another sex other than male or female.
The report by The Independent on November 8 stated that the latest decision by the Federal Constitution Court included an order to the Parliament to pass a law that will create a new term appropriate for intersex people until December 31, 2018. Such a term must be a positive name for the sex on birth certificates.
The ruling was made in response to the legal challenge lodged by an intersex person – an individual whose reproductive characteristics do not biologically conform to either male or female – regarding their ability to register sex as "inter" or "diver" in current official documents.
Authorities rejected the original application arguing that existing civil laws dictate that a child must be male or female, or the section be left blank.
Amnesty International LGBTI expert Maja Liebing told CNN that the decision was important for many intersex people living in Germany.
"Many intersex people suffer throughout their lives, physically but also psychologically," Liebing said. "We hope it can lead to a rethink in society, to a realization that there are more than two genders."
The country's Interior Ministry told CNN that they respect the court's decision.
"We fully respect the decision of the Federal Constitutional Court and the government is fully willing to implement the decision," Germany's Interior Ministry spokesman Johannes Dimroth said.
Judges sitting in Karlsruhe-based court said that the requirements go against the country' constitution and in violation to provisions on privacy and discrimination.
The ruling also explained, "Courts and administrative authorities are no longer allowed to apply the relevant standards, insofar as they amount to an obligation to indicate sex to persons whose sex development has variations in relation to female or male sexual development and who therefore do not permanently assign themselves to male or female sex."
Expecting a backlash, the judges stated that the decision was simply an initiative in opening another sex that nobody was obliged to be associated with.
"Bureaucratic and financial cost, or regulatory interests of the state, cannot justify the refusal of a new, positive option for registrations," the court said. "It is high time to recognize the rights of every person not identifying as exclusively male or female, regardless of their sex characteristics."
Arguing the importance of recognition of third sex, the court explained, "These individuals are particularly vulnerable to violence, discrimination and inequalities in a system that only knows 'male' or 'female'."
In a related news on transgender topic, Germany celebrated its first transgender commander earlier this year who came out to her superiors more than twenty years.