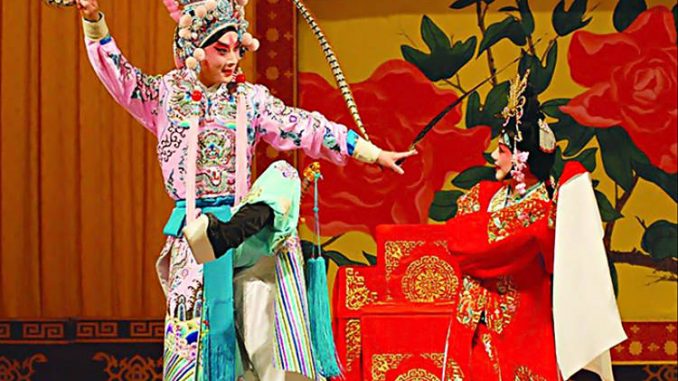 As China's state government wields ever increasing control over the country's culture and society, its treatment of transgender individuals is a complicated push-and-pull between public acceptance and privately held conservative beliefs.
In an in-depth review on transgender rights in China by Eugene Chow published in The Diplomat last October 23, China considered homosexuality a crime 20 years ago and a mental illness until 2001.
However, recent developments including the popularity of transgender personalities and legal victories moved the country's trans rights forward.
A Chinese court ruled against a company who unjustly fired a transgender man on the basis of his gender identity, a decision widely perceived by advocates as a landmark judicial ruling that for the first established protection against discrimination.
Jin Xing, a transgender mother of two, is a famous pop culture personality with an eponymous TV show that is watched by over 100 million people. An ex-soldier and ballerina, she is the first person to be recognized by the government and is open about her sex-change and her personal life.
Like Jin Xing, the rise of transgender individuals, such as opera star Bian Yujie, model Liu Shihan, and singer Chen Lili, captures national attention and helps start conversation around the life and struggles of individuals like them.
Conservative opinions
While they may seem to project an image of China with a fairly progressive stance towards gender identity issues, opinions remain largely conservative.
A recent survey revealed that people largely do not understand the unique issues that many transgender women face. Forty-three percent said that being trans is a mental illness and 42 percent do not believe in allowing them to choose the bathroom for the gender they identify with.
China's complicated approach to its transgender citizens is illuminated by the example of Liu Ting who was hailed as a national role model of virtue in 2017 and awarded for carrying her sick mother on her back to and from the hospital.
Two years ago, she again become subject to media attention after coming out as a trans woman with the state-run media praising her fair skin and beauty.
Gender fluidity and performance
The coverage on the life of Liu Ting underscores the predisposition of Chinese society in accepting transgender women who live glamorous lives as it feeds the trope that gender is a form of performance.
China has a history of cross-dressing performers with male actors portraying female characters in Peking Opera. Boys were specifically trained to play these roles, with artists moving fluidly along gender identity spectrum on- and off-stage.
Cross-dressing and characters who live as a different gender are featured in many popular Chinese stories. The Disney animation Mulan was inspired from a 6th century story of a Chinese girl who joined the military in place of her ailing father and young male siblings.
"[Cross dressing] was deemed as performance, a casual, momentary breaching of the gender boundary. It wasn't until the modern era when the sexes began to mingle in public, that gender divisions became more strictly upheld," Professor Josephine, head of the Center for the Study of Sexualities at the National Central University in Taiwan, said.
The idea of gender as a performance explains why modern transgender figures in China are dancers, performers, and are commonly identified with a particular kind of female Chinese beauty. Transgender people outside of performing arts, however, face a life with considerable difficulty.
Discrimination
For one thing, the state tightened sex-reassignment procedures requiring patients to be over 20 years old, have no criminal record, unmarried. They also needed to secure the consent of their immediate family.
The last requirement is challenging to fulfil. Only 15 percent of the LGBT population in China has come out to their families and just 5 percent are open about their gender identity at school or workplace.
Trans-Life co-founder Pipi stated, "Transgender people have very limited channels to seek medical help in China. It's hard for us to access medical resources. Communication between doctors and transgender people is totally lacking and most doctors have no clinical knowledge about trans issues."
Those who are unable to undergo sex reassignment operation in the country would be forced to go abroad, and others choose the risky practice of buying hormones online and self-dosing.
Additionally, bureaucratic red tape makes it difficult to change gender on government-issued identity cards.
"The police said I needed a statement from a hospital proving my sex reassignment before they could change my ID. But when I went to a hospital, because I had had the operation abroad no one was willing to sign a statement," Trans-life director Minne Chen shared. "Neither the police nor the hospital wanted to accept the responsibility and I had no idea what I could do."
Those who were able to successfully change their gender legally are in an uphill battle in seeking opportunities in education and employment. With their past records no longer a match to their present identity, their academic and work credentials cannot be verified.
The situation drives some of them to work in industries outside of the official economy.
Role models and transgender rights
There are over 4 million transgender Chinese, but only 2.2 percent of the population have trans friends.
In the process, Jin Xing, the most popular transgender in the country, sets the tone in the way transgender identity is talked about and understood.
While on one hand Jin Xing's popularity helps thrust issues on transgender rights into national prominence, it has also caused a setback in the way that she shapes public's expectations of what it means to be a trans woman in China.
"Because Jin Xing is so famous in China, many people think all trans women will be exactly like her," said Su Jingquan, who identifies as a lesbian trans woman.
When she came out to her parents that she was a trans woman who is attracted to women, she struggles to find understanding and acceptance. "Of course they didn't understand. In their eyes, I'm just a normal man dating a woman."
Long way to go
The legal victories and greater public awareness have been positive for China's transgender community.
But the inherent institutional discrimination in the workplace, education, healthcare, and legislation, coupled with outdated perception about them, means that China has a long way to go in the fight for transgender rights.