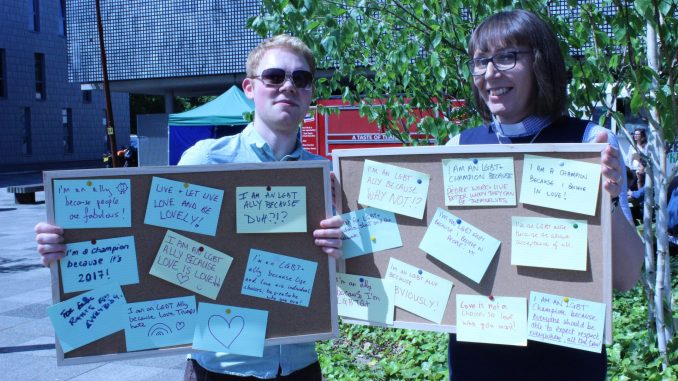 Joy Everingham becomes first transgender woman appointed as minister for the Methodist Church in United Kingdom.
She hid her true identity for over four decades before coming out to her congregation.
Receiving full support from church leaders, she lives full-time as a woman and has been in hormone therapy for 18 months.
The Telegraph published today the story of university chaplain Joy Everingham, 46, who after hiding her true gender identity for 40 years, had become the first transgender minister for the Methodist Church in United Kingdom.
"Transitioning has made our lives easier, it has become wonderfully normal," said Everingham.
Secretly, Everingham, who was born a man, had been wearing lipstick and women's clothing for years and decided to transition in the middle of her training to becoming a minister and before being ordained last summer.
She first announced her decision to fully embrace her true self and her plans to transition to her church leaders, receiving their full support. Then, she revealed it to the members of the church in a written notice given away before the start of service.
"People sat down and started reading it [the letter in which he announced his transition], and then I could see them looking up and around," Everingham told Kent Online in a transgender related news. "I was scared to death, but people kept coming up to me and saying 'well done.' A couple of people didn't speak to me for a bit, but they had to work it out for themselves. I was expecting it to be a long hard trek to justify who I was, but it's not been like that."
Living as a woman full-time and taking hormone therapy for 18 years, she had come a long way in her journey.
"I wasn't like the boys, I was always more like the girls," she recounted. "My dad used to joke 'I've got three kids, one of each', so I was obviously different – I couldn't hide it."
As a teenager, she tried to live as a boy but felt really disjointed. She hid her true identity and felt alone, saying, "If I admitted how I really felt at secondary school I think I would have been beaten with sticks… I'd put make-up on, put my mum's shoes on. It was liberating, but at the same time I felt dirty, and I felt wrong."
She become a Christian at 15 and at age 22, she married her best friend Ruth and had two children.
Her wife was oblivious to her secret life that she was living, as well as unaware of her collection of women's clothes in the loft and continued inclination to dress as a woman.
At 27, she took a secret trip to Leeds and visited a transgender club, a moment that she described was a defining moment of her life.
"It made me realized it wasn't going to go away. I felt so at ease with myself. I felt normal," she said. "Coming back to the hotel that night I was thinking 'I don't want to take 'me' off'… I didn't want to go back to being what I what was. I knew I had to tell Ruth."
Her wife Ruth, on the other hand, suspected that she was carrying on an affair or was gay. Revealing the truth to her was not easy, recalling, "We were sitting in bed and said 'I've got something to tell you'… I started crying and couldn't breathe – it was probably the hardest thing I've ever done."
Fearing for the worst, she said "I thought she was going to leave me, or kick me out, but she said 'I've got to think about this'."
While Ruth stayed and was prepared to help her explore her identity, they both agreed after the birth of their second child in 2002 that she remained to live as a man and took all her clothes to a charity shop.
Depressed at the age of 45, Everingham was referred to a gender clinic and diagnosed with gender dysphoria. Despite the diagnosis, she chose to hide her true identity afraid that her wife might leave her.
In 2014, she started working at St. Peter's Methodist Church in Caterbury and set up home in Faversham. The following month, Ruth accepted her feelings after Radio 5 DJ Stephanie Hirst – then called Simon – revealed on air she was going to transition to a woman.
Speaking of her wife, Everingham said, "Ruth loves me for who I am, but she's still attracted to men. I'm not sure she is really attracted to me sexually anymore, but we're still in love and we're still best friends… She still sees me as the same person, I just look a bit different."