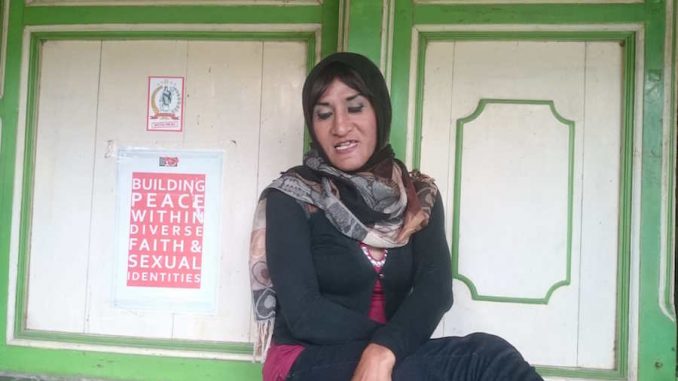 "Allah does not care if you are transgender" said Shinta Ratri, founder of a boarding school for transgender Muslims in Java, Indonesia.
School has become a refuge for LGBT people as a place of worship.
It was forced to close last year due to threats of violence and unresponsive local authorities.
Transgender Muslims face hostility when they pray in public mosques where men and women are divided.
Trans woman Shinta Ratri sought to give them a safe haven for worship and helped found the world's only boarding school for transgender adherents to the Islamic faith, Pondok Pesantren Waria al-Fatah, in Yogyakarta city on the island of Java, Indonesia.
"Allah doesn't care if you are gay or transgender or anything else… Transgender is a beautiful creature created by Allah," Shinta said in a transgender news article on the Guardian published yesterday. "In the public mosque we made people uncomfortable. We needed a safe place for trans women to pray."
Like all devout Muslim women, Shinta prays wearing a long flowing gown with intricately designed and colorful embroidery. However, her being formerly a man elicits angry reaction from other congregants in most public mosques.
The school has become a refuge for trans people from across Indonesia, the world's largest nation with a Muslim majority.
"In here you can be with a women's clothes or men's clothes, it's up to you," Shinta explained. "It depends how comfortable you are."
Around 40 mostly LGBT people are members of the institution and four trans women live full-time including HIV/AIDS advocate Yumi Sara, 50, who has lived in the school since 2010.
According to Mario Parjna Pratama, chairperson of LGBT rights group in Yogyakarta, said, "Making a place like this is a statement… It's like, if you do not want to give us access to pray, we will create our own."
Transgender people in Indonesia are called waria and the society at large, though tolerant, may still subject them to persistent discrimination. Volunteers for transgender individuals in Yogyakarta, like Harvard student and doctor Sandeep Nanwani, fill in the gap in providing the relief and in looking after their welfare.
Finding very few employment opportunities, trans people resort to working in the arts as traditional dancer or street performers, mendicancy or, dangerously, sex work.
Shinta's advocacy finds herself giving talks to people in university campuses, but the increased visibility of LGBT rights movement have prompted a rise in anti-LGBT rhetoric from political and religious conservatives.
For Pratama, the issue on LGBT rights have galvanized the conservatives, saying, "To make them unite, they need an issue. What can make them unite? One of the things is the LGBT."
Early this year, a transgender event was cancelled by the police.
The Indonesia Psychiatric Association claimed that transgender people have mental disorders, and the legislature is contemplating on passing a law that bans LGBT characters from national television shows.
Shinta's boarding school has been subjected to a backlash in February 2016 when it was forced to close for four months due to threats of violence from conservative groups and unresponsive law enforcement authorities.
The local vigilante group, Front Jihad Islam (FJI), said that the school was not permissible under Islamic precepts.
"In the Qur'an it is said that men should not behave like women," FJI leader Abdurrahman said. "It violates sharia."
Supporters however believed in the school's mission. Arif Nuh Safri, religious teacher at the Institute of Qur'anic Studies and volunteer at the school, said, "When we talk about religion, we talk about humanity… If we talk about religion but don't respect humanity, it's no use."