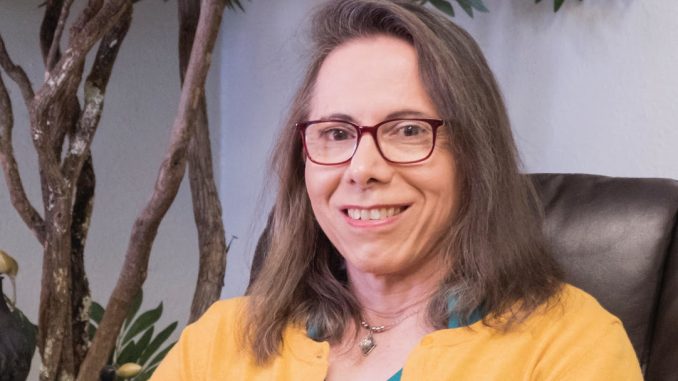 A federal jury awarded a transgender professor $1.1 million against a university that discriminated her on the basis of her gender identity.
Rachel Tudor sued Oklahoma State University for denying her tenure because of her being a transgender woman.
Existing federal laws on discrimination do not explicitly grant protection to transgender individuals, but the jury agreed there was preponderance of the evidence of discrimination.
A transgender professor won a lawsuit and was awarded $1.1 million by a jury in a federal court due to workplace discrimination at a former university according to news on transgender topic by the Vox website yesterday.
Rachel Tudor, who was born male, accused Southeastern Oklahoma State University of discrimination by denying her tenure, limiting her choice of clothes she could wear at work, and restricting her access to bathroom for the gender she identified with.
Tudor was fired in 2011 after she was denied of tenure and took the case to the U.S. Equal Employment Opportunity Commission and started the years-long legal battle.
The jury agreed with Tudor, citing that there was preponderance of the evidence that the university retaliated against her for complaints about workplace discrimination and did not grant her tenure based on her identity.
However, it disagreed that she was in a hostile workplace environment.
Federal civil rights issue: ban on sex-based expectations
The ruling was legally significant as transgender people are not explicitly covered under federal or Oklahoma civil rights law.
Tudor's argument, however, was centered on the federal law that bans discrimination based on sex.
In other words, the law prohibits sex-based expectations.
Discriminatory acts against a trans woman are based on the expectation that a person born male must identify as a man, a belief-system that is grounded on the idea of what a person of a certain sex assigned at birth should be like.
Then President Barack Obama together with then Attorney General Eric Holder of the U.S. Department of Justice supported Tudor's case. They also believed in the broader interpretation of federal civil rights law and sued the university.
Things took quite a different turn under President Donald Trump and Attorney General Jeff Sessions. They sided in the narrower understanding of federal civil rights and initiated the Justice Department to settle with the university instead of allowing the case to advance further.
LGBTQ protection
Tudor's victory from the jury settlement is going to add to the momentum that LGBTQ advocates are pushing for with regards to protections for transgender employees nationwide.
The Supreme Court has yet to issue a decision on the claim that sex-based discrimination bans give trans people legal protection, but lower courts – including some federal appeals courts – have ruled consistently with the view.
Should the Supreme Court decide on the issue, it is hoped that it will eventually protect transgender individuals in the U.S. from acts of discrimination they have been suffering for years in spite of absence of explicit federal or state legislations.
Anti-LGBTQ discrimination
Nearly all states' and federal laws do not explicitly delineate protection for trans people in the workplace, housing, public accommodations and schools.
Meaning, they can be denied access, fired, or evicted from correct bathroom facility, employment and home if business-owner, landlord or business-owner doesn't approve of their gender identity.
LGBTQ activists however believe that existing federal civil rights law already protects trans people.
According to Joshua Block, an American Civil Liberties Union attorney, cited 1998 Supreme Court case, Oncale v. Sundowner Offshore Services Inc.
The Supreme Court prohibited same-sex sexual harassment, which was an area that the authors of federal civil rights considered, but was a conclusion reached by the court upon plain reading of the law.
"Oncale says that's irrelevant whether [Congress] contemplated it," Block told Vox. "That's not how laws work. This is literal sex discrimination. Whether or not that's what Congress was focused on doesn't make it any less a type of discrimination covered by the statute."