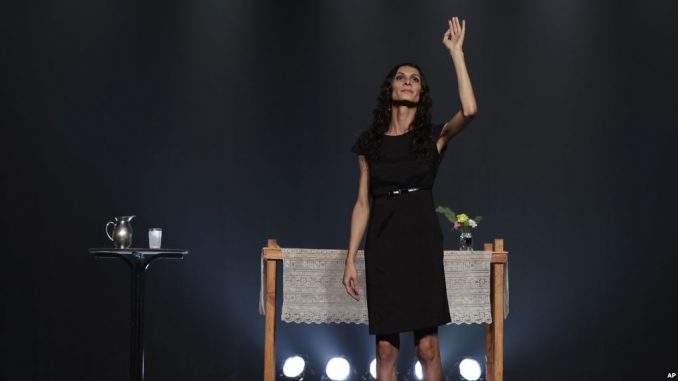 A monologue written by a Scottish playwright with a transgender Christ faced opposition from conservative groups.
Culture wars intensify in Brazil with protests calling to shut down artistic performances that push gender boundaries.
Experts believed protests against the arts are politically motivated.
A show with a transgender Jesus heats up the already brewing cultural wars waged in Brazil according to BBC news published on Sunday.
Called The Gospel According to Jesus, Queen of Heaven, it featured actress Renata Carvalho playing the main role of Jesus who, in this performance, is a transgender woman narrating Bible stories with a modern take.
Based on the monologue written by Scottish playwright Jo Clifford, it played to a packed audience in Brazil and has become a subject of news headlines.
Attacks against transgender
Brazil is among the countries with high number of attacks against transgender people. The advocacy group Rede Trans revealed that there are 170 transgender killings for the past year.
Despite the conservative attitude, transgender acts and shows can become quite popular.
In a transgender related news, a soap opera about transgender man draws millions of viewers across the country and transgender performers are creating music pieces that put a spotlight on their struggles.
Yet, censorship persists. One Sao Paulo performance was canceled — but was later lifted — when an emergency injunction was issued by a judge. Other conservative groups attempted to shut it down and failed.
The actors also suffered abuse online.
Director Natalia Mallo said, "We were attacked by evangelical churches mostly… With Jesus embodied in a trans woman, it addresses all the oppression and violence suffered by this population."
There are pockets of acceptance among Christian organizations that were receptive of the performance. Mallo recently held a performance in an Anglican church in Sao Paolo.
Inviting church leaders from the city to witness the performance, she said, "We became the focus of a discussion about censorship and about the limits of art… "We thought it would be a nice way of responding by creating an event that shows that not all Christians are against what we are doing."
Freedom of expression
Conservative groups in Brazilian society had criticized a slew of other LGBT-related artistic activities.
In Porto Alegre, right-wing activists shut down an exhibition called Queer Museum that was held in Santander Cultural, a cultural center in the city.
Among those that protested are members of Free Brazil Movement (MBL), a movement that started in protests demanding to oust then president Dilma Rousseff.
The group has been criticized by artists for its support on censorship.
Arthur Modelo do Val, an MBL member, however disagreed, saying, "A boycott is an exercise in liberal citizenship because laws aren't used to censure another person… We are against censorship, we support a boycott against an exhibition that society didn't see as healthy for children."
Pointing out that freedom of expression is enjoyed not only for those who support the exhibition in Porto Alegre but also for those who, like him, are against it, he commented, "If we as a society are against that kind of exhibition, why can't we be free to ask an institution to voluntarily close it? That too is freedom of expression is it not?"
Art and censorship
Protests also broke out in Modern Art Museum in Sao Paulo after a child was encouraged to touch a naked man in a performance art.
With their new exhibition Histories of Sexuality, the influential Sao Paulo Modern Art Museum initially restricted access to the exhibition gallery for people over 17 years old but later relaxed the rule to include minors accompanied by an adult.
"We've been planning this for over two years so it's not that we decided to do this exhibition because it's become such a polemic issue," Adriano Pedrosa, the museum's artistic director, said. "It's good timing because the exhibition becomes really more relevant for this discussion. We were also fortunate not to be the very first ones so we had time to prepare ourselves, or to try to prepare ourselves."
The spate of incidents involving censorship led Cristina Costa, head of the Communication, Freedom of Expression and Censorship Observatory at the University of Sao Paulo, to point out that while countries have taboos, the function of art is meant to challenge conventions.
Indicating that Brazil went through a century of authoritarianism, fascism, Nazism, Stalinism and other ideologies, Costa said, "The problem is that freedom of expression, as it is understood today, is the freedom of those who think like me, not the idea that pluralism exists."
Political protests against the arts
Many experts believed that the ongoing protests against forms of art that push boundaries are politically motivated.
"This is not meant to protect the family or children from naked people or from art that is inappropriate, this is about elections and gathering people around a narrative that this is bad," theater director Mallo told BBC. "It's a way of creating consensus around things that are controversial and where people choose sides."
The political divide between the left and the right is expected to intensify in the run-up to the general elections to be held next year.