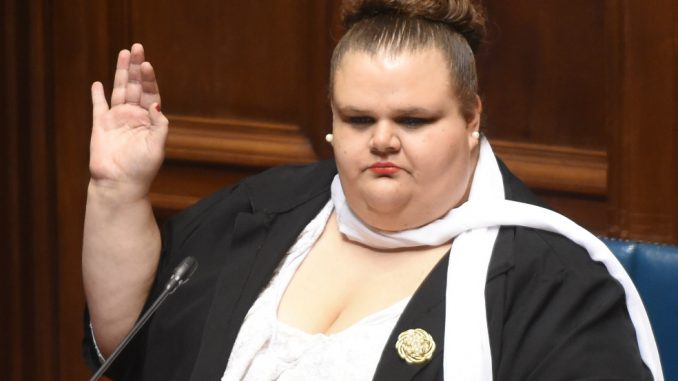 Uruguay has been making waves internationally recently for its progressive stance on transgender issue.
Last week, we reported the country's Diversity March that celebrated significant advances made in trans rights while at the same time urged legislators to pass a bill that would expand access to education, healthcare, and employment.
On Tuesday according to The Associated Press and published in The New York Times, the country elected Michelle Suarez, the first ever transgender senator.
Suarez, 34, who ran under the Communist Party, promised that she is going to use her position to boost and protect rights of transgender people.
Assuming her seat in the upper chamber of the legislative body, she plans to pass a law that would grant transgender citizens legal gender recognition without asking court permission.
Additionally, she intends to ask the government to compensate transgender victims of persecution under the country's dictatorship rule from 1973-1985 by establishing a pension program for them.
Her third initiative involves around setting aside 1 per cent of government jobs for transgender people.
She told the Associated Press, "Uruguay has evolved, but it's still a discriminatory country."
Suarez has come a long way since her realization at age 15 that she was a woman trapped in a man's body.
Discriminated by some classmates and teachers, she said, "It was a tough time… People who knew me began to harass me."
Moving from small coastal hometown to the capital, Montevideo, made things easier for her. However, she was refused to be given a grade on her work by a college professor who specialized in human rights simply for who she is.
Nonetheless, she was destined for greater things.
She was the first transgender woman to graduate with a university law degree.
Working as an activist for transgender rights as a way to cope with her mother's death, she was part of the team who crafted a bill that was then passed into law that legalized gay marriage in 2013.
Looking back, she credited her family's unwavering support.
"I had my mother – that's the only difference," she stated. "My family didn't kick me out of our house."
Uruguay's significant milestones came amidst similar shifts in South American region towards protecting people in LGBT community in spite of the prevailing macho attitude and resistance.
For instance, neighboring Argentina granted people to change legal and physical gender identity without any medical or judicial proceedings in 2012. It has also appointed its first transgender police chief.
Chile, on the other hand, pushed measures for gender rights such as greater acceptance for transgender individuals including children.
Still, Uruguay remains a model country for social inclusion according to Americas Quarterly Editor-in-Chief Brian Winter.
"Its progress in recent years on issues including women's empowerment and marriage equality has added to its long-standing status as a champion of egalitarian values," he further said.
Notable achievements include legalizing homosexuality since 1933, establishing anti-discrimination policies in 2003, allowing adoption by gay couples in 2009, and granting same-sex marriage four years later.
Americas Quarterly continued that the country is way ahead of other states in protecting people regardless of gender, sexual orientation, or race.
"Uruguayans themselves place huge importance on inclusion, and their country's position in the ranking is also boosted by robust access to housing, job generation and economic growth," the publication said.