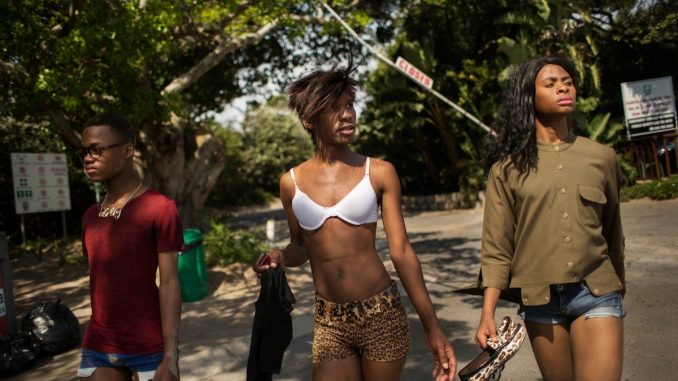 The study aims to understand factors, risk behaviors, disease transmission, and prevalence of HIV in trans women in South Africa.
It is going to be conducted in Cape Town, Johannesburg, and the Buffalo City, with each location having 300 respondents for a total of 900 sample size.
Respondents would be given access to HIV testing, tuberculosis screening, and testing for sexually transmitted infections.
South Africa's Human Sciences Research Council (HSRC) announced on Thursday the country's first biological and behavioral survey on HIV among transgender women.
According to IOL transgender news article posted on January 4, its goal is to look into the prevalence of HIV in transgender population in South Africa.
The study is made possible through the support of the United States' Center for Disease Control and Prevention (CDC), various South African and international academic, and civil society partners.
The President's Emergency Plan for AIDS Relief (PEPFAR) will source the funding.
It is scheduled later this month to be conducted in Cape Town, Johannesburg, and the Buffalo City Metro in the Eastern Cape.
The locations were selected due to the presence of civil societies and organizations working closely with members of the transgender community such as the Feminist Collective in East London and the Sex Workers' Advocacy and Education Taskforce (SWEAT).
In each site, 300 trans women would be chosen as respondents with a total of 900 sample size.
Additionally, they would be given access to HIV antibody testing, antiretroviral testing, HIV viral load to test HIV level in the body, tuberculosis screening, and tests for sexually transmitted diseases.
Professor Crain Soudien, HSRC chief executive, said, "The data can also be used to monitor the sequential stages of HIV medical care, that is the care and treatment cascade that transgender women experience from diagnosis to achieving the goal of viral suppression, a very low level of HIV in the body."
"Our fight against HIV will gain traction if we continue to investigate, and understand, the significant behaviours, attitudes and perceptions which can contribute towards infection, effective treatment and support. It is work such as this that gives expression to the slogan, social science which matters," Soudien continued.
In a quote by the XINHUANET website, CDC representative Leigh Ann van der Merwe explained that the survey will give voice to transgender South Africans and will help provide deeper understanding on how the disease can be prevented.
"We see this study as contributing towards our empowerment, especially because interventions will come from our input rather than being imposed upon us," Van der Merwe commented.
The study would attempt to determine social, structural, economic, and cultural factors associated with HIV infection in transgender women.
Furthermore, it would identify risk behaviors and practices, HIV transmission, and prevalence of HIV-positive members of transgender community.
South Africa has at least 6.2 million people who are HIV-positive, making it the country with the highest HIV/AIDS (acquired immune deficiency syndrome) prevalence in the world. It is also considered to have the highest treatment rate among all countries, with 4.2 million of its people on antiretroviral treatment.