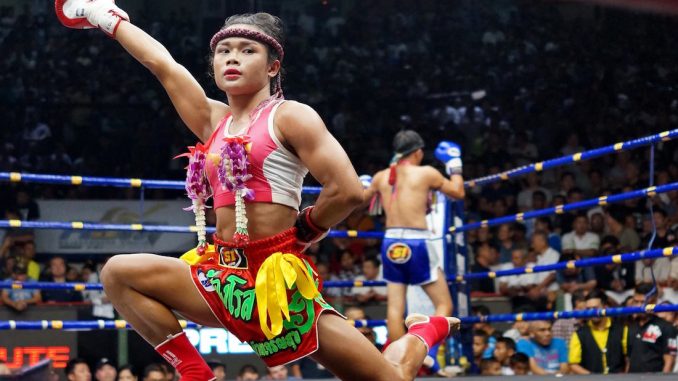 Muay Thai boxer and transgender woman Nong Rose will debut in Paris, France in a fight against champion Akram Hamidi.
She said that when she started fighting professionally as a girl, she was afraid that people would not accept her for who she was, saying that some opponents would look at her wrong and claim that trans fighters like her will never win.
Despite Thailand's reputation as free-spirited haven for LGBT people, it has yet to establish legal gender recognition for transgender people, causing difficulties in obtaining medical care or going through bureaucratic processes.
Muay Thai boxer and transgender woman Nong Rose wore red lipstick and pink sports bra while sparring with her twin brother in a boxing gym in Thailand, a preparation for her debut fight in Paris, France.
In a to transgender news by Agence France-Presse (AFP) and published on Wednesday in AsiaOne website, Nong Rose, 21, was in midst of her training in central Thailand province in preparation for her Paris match.
Boxing DNA
The siblings started training in the sport of boxing at a tender age of eight with their uncle, a professional Muay Thai fighter, who taught them how to jab, cross, and kick.
Somrak Polchareon, Nong Rose's twin brother, sad in an interview, "Since (we were) little ones, we used to fight… but she was always stronger than me."
Her fight last January 6 against rival French Muay Thai champion Akram Hamidi was an opportunity to move her career forward and to bring attention to transgender fighters.
"It helps to promote the trans, to show that we are worth as much as the others. We are not weak," Nong Rose said.
Thailand transgender rights
However, the Thailand government still considered Nong Rose as a man named Somros Polchareon.
Although the country is famed as a free-spirited destination for LGBT people, discrimination is rampant outside of red light districts, nightlife, and entertainment venues.
Many transgender individuals feel they are second-class citizens in their own country.
For example, even though members of the LGBT community are separated in jail, transgender women are forced to shave and live among male inmates if they had not underwent sex reassignment surgery.
Transgender student Nada Chaiyajit also needed to fight for her right to submit a graduation photo that match her gender identity, with the school succumbing only after she requested her documents be issued with her chosen gender.
The country considered changing genders as a form of mental illness until 2012. There is also no existing law for legal gender recognition, causing difficulties in obtaining medical care or going through bureaucratic processes.
Nong Rose said that she always felt like a girl and started wearing female clothing as early as the age of 14.
Competing against men had not always been easy.
"When I started fighting (as a girl), I was afraid that people would not accept me," she said. Her male opponents are initially rattled or even enraged at her appearance.
"In my village everyone knew me so it was easy," she stated. "But outside the city, some boxers looked at me wrong and said that trans people could not win."
Perseverance
Despite the prevailing prejudice, Nong Rose turned professional upon her high school graduation and won half of her 300 matches.
In the fighting circuit, she is known for her knees of steel.
"In combat, she always walks on you and hammers you with her knees," said 25-year-old Chalongchai Meemindee, a boxer known as "Phetsuphan" who fought her last year. "It's good to have her in the ring because it brings colour and attracts viewers, especially foreigners."
Thai transgender boxers have caught global attention starting in 2004 with the screening of the film, "Beautiful Boxer", a story of Nong Toom, Thailand's first transgender athlete in the sport, who paid her gender confirming procedures with her championship winnings.
"She was my role model," said Nong Rose, explaining that Nong Toom would support her in most of her fights.
Looking forward to a future when her boxing career is over, she had big dreams for her transition.
"Today, I do not take hormones because it affects my condition and my boxing. When you are on hormones, you have much less energy," she said. "But as soon as I stop boxing, I do all the operations to finish my transformation."