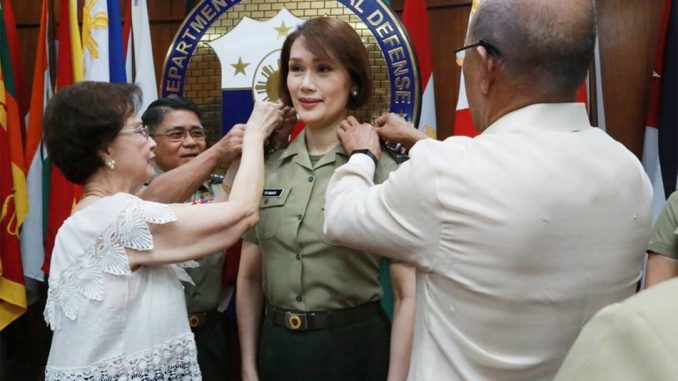 Geraldine Roman, Philippines' first transgender legislator, made history once again when she took her oath as a reservist officer in the Armed Forces of the Philippines (AFP).
She acknowledged the efforts of the military in opening its doors for LGBT people to serve the country.
A day after her oath-taking, she said is pushing for the mandatory military training program among senior high school students.
The first elected transgender legislator made another history by becoming the first transgender military officer in the Philippines.
In a transgender latest news by InterAksyon posted on February 16, Bataan First District representative Geraldine Roman took her oath at the Department of National Defense (DND) Hall of Flags in Camp Aguinaldo, Quezon City, Philippines on Wednesday, February 14.
Reservist Officer
Roman was designated as a reservist officer of the Armed Forces of the Philippines (AFP) and wore the rank of Lieutenant Colonel given to her by Defense Secretary Delfin Lorenzana in a ceremony.
Also attending the event were AFP Chief of Staff General Rey Leonardo Guerrero and other high ranking military and executive officials of the Department of Defense.
Roman took to social media in announcing her latest milestone.
"We should also remember love of country on Valentine's Day. Today, I am officially a member of the Army's Reserve Force. #ServiceKnowsNoGender" she wrote on Twitter.
At the same time, she acknowledged the efforts of the military in opening its doors for LGBT people.
"I commend the AFP for allowing Filipino LGBT (Lesbian, Gay, Bisexual, Transgender) members to serve their country in uniform," she said on her Twitter page.
In contrast, the United States government called for a transgender military ban last year, a policy that resulted in court rulings against it.
According the press release issued by the Department of Defense, Roman expressed her intention in joining the AFP Reserve Force just this month.
Two other legislators also joined her during the ceremony in being part of the AFP Reserve Force, Representative Edwin Ong of Northern Samar 2nd District and Reprsentative Divina Grace Yu of Zamboanga Del Sur 1st District.
More details from the Inquirer revealed that she believed all Filipino citizens must be able to apply for the military without discrimination and that gender does not play any role when the country is in peril because of war or natural disasters.
"My belief is that ALL patriotic Filipinos must be allowed to apply for military service, regardless of gender and sexual orientation and identification," she stated. "After all, war and disaster do not recognize gender. These affect everybody, and EVERYONE must defend and serve our communities and our country."
Bringing back mandatory military training
A day after the ceremony, Roman was reported to be pushing for the mandatory military training among senior high school students.
"For service of country, we must bring back the mandatory ROTC (Reserve Officers Training Corps) program for Grades 11 and 12," she said.
By implementing the ROTC program, she believed that it would be instrumental in instilling a sense of patriotism among the youth.
The ROTC program used to be compulsory for all male college students and a requirement before graduation. Controversies, however, hounded the program including a death from hazing that prompted many to call for its abolition.
In 2001, Congress passed a law making ROTC one of the three programs that comprise the National Service Training Program (NSTP) and no longer declared as requirement for graduation.