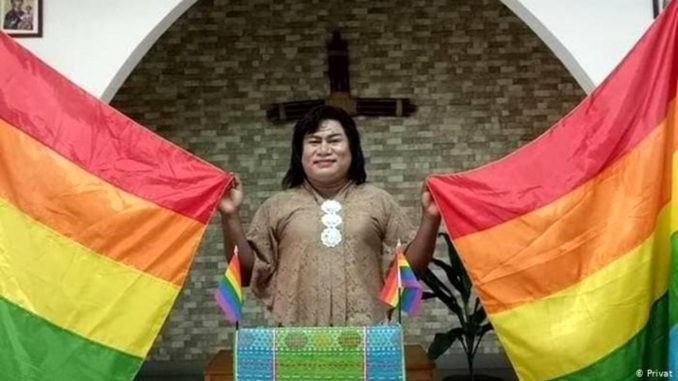 Being a trans individual in a predominantly Muslim country, Hendrika Kelan is breaking barriers by being Indonesia's first transgender to hold a place in public office.
Kelan just turned 34 years old last week and celebrated her birthday by giving back to the community. She distributed vegetables to the people of the small village of Habi in Indonesia's Southermost province.
She was a bit worried when she ran for office, thinking that she would not win the popular vote because of her gender identity. But with her consistent hard work even before running for office, the people of her community recognized that Kelan deserved to win.
She started with her community activism as a member of a local transgender group called "Fajar Sikka" eventually gaining the local community's attention, trust, and support. This in turn led the people to encourage her to become a village council member.
"Once I was elected, I was immediately faced with difficulties due to the pandemic. So, I immediately created a food security program, planted crops, and distributed them to the community," Kelan said in an interview.
Kelan will hold office for the next six years and plans to aid marginalized groups such as transgender people and enact inclusive policies which will help the community be more aware of the challenges they face.
"The people who nominated me knew I was trans. I also said that if I was elected to help the community, I was willing, but without changing my identity, " said Kelan.
Kelan also recognized that her success in running for office was due to her participation in Fajar Sikka which was founded in 2018 to help people who felt isolated by society because of their sexual orientation, gender identity, and disabilities.
Fajar Sikka has over 40 members who help provide shelter, help, and counseling to members of the LGBT community, indigenous women, and workers with disabilities.
"I know what depression and fear feel like. I used to be afraid and stressed. Like me, that sexual minority group always feels guilty, hated. Slowly, I convinced them to accept themselves first," Kelan expressed.
Being transgender or Waria in Indonesia can be challenging as they are often stereotyped and discriminated leaving them to have limited choices when it comes to employment. This often leads to Waria becoming sex workers due to poverty.
With Kelan's encouragement, Fajar Sikka members are learning new skills where they can become traders, start businesses and be able to sell food. She believes that this will help them have more options than sex work.
Kelan's aim is to help her village develop into a better community and she wants to set an example to all other trans women in Indonesia that they can overcome the stereotypes and stigma. She did admit though that she had no ambition to pursue a career in politics.
"I will be whatever I want to be, be it a member of the DPR or the regent, as long as it is possible for me to do what I aspire to: serve the community and help the community, or I may become a nun."