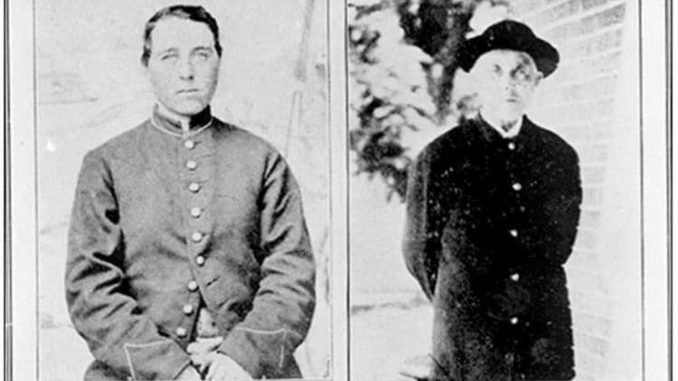 At a time when President Donald Trump announced a ban on transgender troops, the website The Daily Beast published a featured article today on the life of Albert Cashier, born Jennie Hodgers and nicknamed Little Al by his comrades, who served in Company G of 95th Illinois Voluntary Infantry in the U.S. Civil War.
Born in Ireland in 1842, little is known about Cashier's childhood and it is believed that he arrived in the United States as a stowaway.
He enlisted on August 6, 1862 when the war broke out. Considered to be one of the many women who dressed in men's clothes who served the war, he is the only known survivor who went on to live a simple life receiving military pension without being discovered.
"We never suspected that 'Albert' was not a man," said his comrade, Corporal Robert Horan. "But we did think sometimes that she acted more like a woman than a man. For one thing, she always insisted on bunking by herself. And she did lote[lots] of washing for the boys—she used to wash our shirts. When the strangeness wore away she made a good comrade. She was a soldier with us, doing faithfully and well."
"I never suspected anything of that kind," concurred Corporal J. H. Himes of the same company. "Albert D. J. Cashier was very quiet in her manner and she was not easy to acquainted with. I rather think she did not take part in any of the sports and games of the members of the Company."
The New York Times, in a report published on January 28, 2014, wrote that he never avoided danger, and may even at times courted it.
He participated in the Red River campaign by Gen. Nathaniel P. Banks in the spring of 1864. He then fought in Nashville by December of that year with the Army of Cumberland against John Bell Hood's forces. He also joined in the siege of Mobile, Alabama that concluded with the surrender of Robert E. Lee at Appomattox Courthouse.
The company sergeant Charles W. Ives, in The Daily Beast article, recalled that Cashier was the shortest in the company, but what he lacked in his height he more than made it up with his bravery.
He hoisted a Union flag as bullets from snipers whizzed by. One time, he stood on a fallen trunk of a tree and began heckling the Confederates on the other side of the battlefield.
He was captured at the Siege of Vicksburg while on a reconnaissance mission, and escaped by attacking his Confederate captor, seizing his gun, and running back to his own lines. His name is among the thousands of brave soldiers immortalized on the bronze plaques at the victory monument in Vicksburg, Illinois.
By the time he returned from service on August 17, 1865, he had marched 1,800 on foot and travelled 10,000 miles in total. He fought in 40 different battles and skirmishes waged in the states of Mississippi, Louisiana, Missouri, and Tennessee.
After the war, he settled in Saunemin, Illinois and worked as a handyman, gardener, janitor, lamplighter, and chauffeur.
In 1911, he had a vehicular accident that fractured his leg and upon examination, the secret of his anatomy was discovered. People who knew, including the doctor who examined her, agreed to continue hiding the information about his sex from the public. But in 1913, his story was revealed and reported globally, including the Irish press.
A year later, he was diagnosed with mental illness and was committed to the Watertown State Hospital.
His decline and the way the institution forced him to wear woman's clothing in his last few months despaired his former superior, Sergeant Ives, who remarked, "I left Cashier a fearless boy of 22…when I went to Watertown, I found… a frail woman of 70, broken because, on discovery, he was compelled to put on skirts."
Cashier died on October 10, 1915. He was 72. He was buried in Saunemin and was given full military honors with the headstone: Albert D J Cashier, Co. G 95 ILL. Inf, Civil War. Born Jennie Hodgers in Clogher Head, Ireland 1843 – 1915.