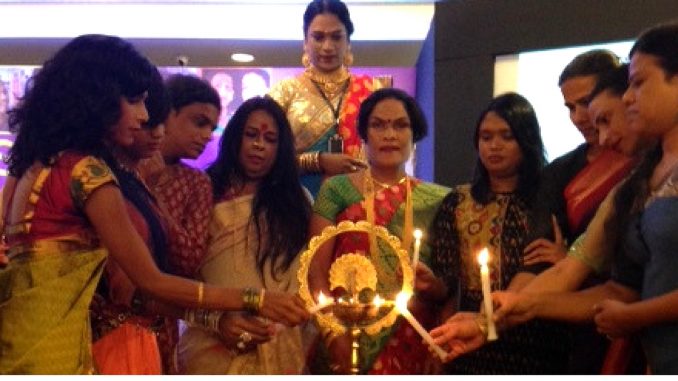 Music, dance, and exhibits took center stage during the celebration of the 5th Hijra Habba in New Delhi, showcasing the beauty and exceptional talents of transgender citizens, The Better India reported last Saturday.
Hijra Habba (hijra means transgender or a person who is neither male or female, habba means celebration) is an annual festival organized by the India HIV/Aids Alliance. For this year, the event was held in the bustling Select CITYALK mall with the theme is "Inclusion – All Citizens Equal" according to the group's Facebook page.
It included the 2017 Miss Trans Queen finalists who walked the ramp. Additionally, exhibits of arts and crafts created by transgender participants, highlighting their skills and work, were featured for the very first time.
Seeing so many hijra in bright dresses and trans women in a mall participating in the event was eye-opening for many people, especially for 14-year old Chhavi Arora. Her mother, Sarika, said in an interview, "I told her that the hijra community is not different from other people. So, we have come to their stalls to appreciate their talent and buy their handicrafts. It is events like this that allow us to interact with them and break our misconceptions."
Sonal Mehta, the executive director of India HIV/AIDS Alliance, said, "Although we had been able to build the confidence of the community and influence policy makers to come up with Transgender Person Protection Bill, 2016, it was clear that unless public opinion changed, nothing would change for the transgender community. So, this year's Hijra Habba was based on the theme of equality and equity to reiterate that all citizens are equal. We also wanted to dispel prejudices against the community by showing their talent and intelligence. Holding these events at the mall was strategic because the mall authorities were very supportive, unlike many places that are usually reluctant to host hijras. Also, the footfall here is huge over the weekend and a lot of them are young people."
For 28-year-old Keaaviiraag Poddar who was female at birth and is now transitioning to be a man, attending the event was a big step.
"I'm neither a boy nor a girl. I am a transformed man," Poddar said. "I belong to an orthodox, religious family in Siliguri, West Bengal. My father can't understand why his daughter wants to become a man. He boasts about my academic achievements of being a double MA and now pursuing Masters in Business Management (MBA) from IIT Kolkata. But I want him to be equally proud, just as I am, of being a man. Once my sex change is complete, I am confident he will accept me as his son."
During the event, more than 200 transgender and hijra leaders, government officials, legal experts, and activists discussed the current state of trans rights in India. Among other things, they noted the landmark National Legal Services Authority (NALSA) judgment by the Indian Supreme Court on April 15, 2014 that, according to International Commission of Jurists, affirmed transgender people are entitled to decide their self-identified gender.
Additionally, they talked about the Transgender Persons (Protection Of Rights) Bill, 2016, a piece of legislation seeking to establish transgender rights which is expected to be deliberated in the Parliament in December this year.
A nine-country study on the state of transgender rights in Asia by United Nations Development Program and the Asia Pacific Transgender Network (APTN) reported that trans individuals in the region are either facing significant hurdles in obtaining or are refused from securing official identification documents that reflect their gender identity.
This lack of recognition makes them easy target for discrimination, prevents them from participating meaningfully in society, and restricts their access to education, employment, and public services.
India HIV/Aids Alliance is a non-profit, non-government organization founded in 1999 and in partnership with civil society, government, and communities supporting rights protection and improving health particular those who are vulnerable to the disease.
The event is part of the organization's strategy to reach out to individuals who are still living in fear in India and in changing public perception on trans individuals. There are five million people in India who identified themselves as transgender in 2014 census, although human rights advocates believed that the real number may be higher considering that many were afraid to come out due to social stigma.