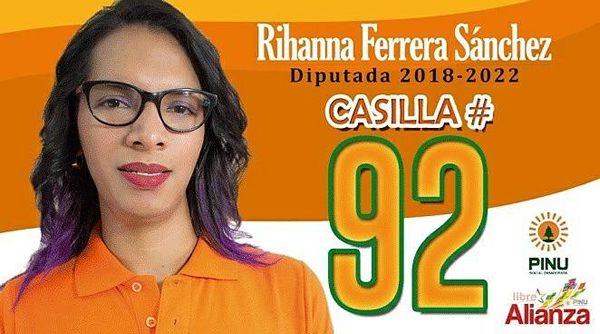 If elected in the general election on November 26, Rihanna Ferrera will make history for becoming the first openly transgender public official in Honduras.
"I want to participate in politics," Ferrera said in a report by the Washington Blade on Monday. "I take my candidacy very seriously."
Ferrera is seeking to be elected in a seat in Congress representing the department of Francisco Morazan, central part of the country where the capital Tegucigalpa is located.
She is running under the centrist-left United Social Democratic and Innovation Party (PINU).
Ferrera is the co-founder of Asociacion Cozumel Trans, a Honduras-based nonprofit transgender-advocacy organization.
In its Facebook page, the group's mission is to improve the living conditions of transgender population through promotion and defense of human rights, access to healthcare in preventing of sexually-transmitted infections and HIV, citizen participation, gender equality, and education.
"I want to be a candidate," Ferrera further explained on her motivation to seek an elected position. "It will also improve things for us trans women."
Several transgender individuals have recently run for public office in the country.
Claudia Spellman and Victoria Gomez, both candidates under the leftist Liberty and Refoundation (LIBRE) party, sought election in 2012.
However, violent attacks and discriminatory acts are still commonplace in Honduras, particularly those that are targeted against transgender people.
In fact, Spellman, former director of HIV/AIDS Service organization based in San Pedro Sula, presently resides in DC after receiving death threats. Gomez, on the other hand, was attacked in Tegucigalpa and has sought asylum in Spain.
Trans activist and Grupo de Mujeres volunteer, Sheryln Montoya, 29, was found dead wrapped in sacks in April. Her body bore signs of strangulation. A transgender-right advocate interviewed by the Washington Blade has also been subject to two assassination attempts last year.
In another report, lesbians, gays, bisexuals, transgender and intersex (LGBTI) organizations estimated that the are 240 people belonging to the LGBTI community that have been murdered since 2008.
According to NBC News, Honduras remains to have one of the highest murder rates in the world and the risk is higher for trans women.
When asked to comment about the situation for transgender citizens, Ferrera told Washington Blade, "It is very complex… It is very difficult."
She herself also received verbal attack because of her gender identity.
She stated that the government still does not grant legal recognition to transgender people. She also said that many of them are forced to run away to another country because of the situation.