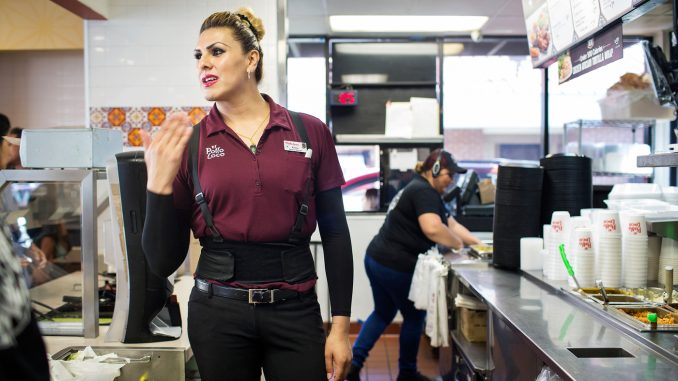 Businesses in California that are certified with transgender-friendly workplace can get a state grant equal to 60 hours of new hire's salary, the Money section of Good website reported on September 13.
Giving incentives to business-owners for hiring transgender workers is the brainchild of Michaela Mendelsohn, 65, an openly transgender CEO of Pollo West Corporation that franchises El Pollo Loco restaurants and the founder of TransCanWork organization.
TransCanWork's objective is to promote truly transgender positive workplace in California and to be an example for the rest of the country.
For Jessye Zambrano, 28, transgender woman of Mexican descent, the initiative offered her a way out from a previous managerial job where she experienced workplace discrimination and violence from a customer.
"Working at El Pollo Loco, I have the power to refuse service," Zambrano said. "A few months ago, a guy came in and he tried to put me down. He said bad words to me and three other trans girls. He was screaming that he didn't want us to serve him. I felt bad because there were a lot of customers around, but they were supporting us. We told him he couldn't come back anymore. It gives you the motivation to work harder."
Zambrano is now a manager at an El Pollo restaurant, and she is grateful for the day she meet Mendelsohn.
In a report by NPR, Mendelsoh pitched the initiative last year to California Restaurant Association where she is a member.
The 22,000-strong institution embraced the idea and now hosts programs that aim to educate, train and give incentives to entrepreneurs providing job opportunities to transgender people.
Admitting that she initially had worries in hiring her first transgender employee, Mendelsohn said, "When I started hiring transgender employees, honestly, I had concerns … and I worried how the other employees and customers were going to respond."
She soon changed her mind. Her first transgender hire five years ago, Kristy Ramirez, is currently working as a manager in one of her restaurants.
"But we started getting more and more compliments about our trans employees than anyone else on our customer comment line. Most of these women, like Jessye, [had been] working in jobs where they were beaten down and had no voice. They were lost or couldn't get a job, and their self-esteem was so low. They came in and found a level playing field. I know this is just fast food, but it's someplace they can start and work their way up in a supportive atmosphere. This is the first time most of them have worked in their authentic gender identity. You can see their whole life force changing," she said.
According to LGBT MAP, an LGBT think-tank, it is estimated that transgender people have twice as unemployment rate as the general population.
A study by National Center for Transgender Equality reported that the situation is even worse for trans women of color who are four times more likely to be unemployed than white people.
Around 90% of those who do get hired say they experience harassment, mistreatment and discrimination.
For Kylar W. Broadus, transgender attorney, activist and former professor, issues begin during the interview when applicants shows up and they don't look like employer's expectations.
"Employers historically hire people who look like themselves. That's where the problem comes in. We have to educate and teach employers how to do better," he said.
He further explained that employers hire certain kinds of people because they are worried of public opinion about their business and afraid of decrease in profit based on who is employed there.
Los Angeles Gender center executive director Aydin Olson-Kennedy added, "We put intense judgment around masculinity and femininity and criticize that then also criticize poverty and the choices trans women make if they become involved in underground economies. But we do so without taking any accountability for the system we have set up and created for those folks."
Mendelsohn's work at TransCanWork is her chance to influence a change in hiring practices among employers across the country. She encouraged the restaurant industry in particular to start tapping on to the pool of talented people in transgender community.
She said, "If gender-nonconforming people don't find jobs, they'll always be at risk of falling back into risky behavior because their lives are difficult. This is the true importance of economic justice."