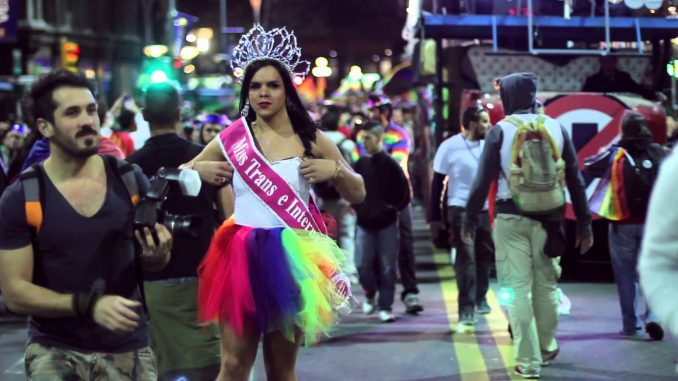 Thousands participated in a demonstration in Montevideo, Uruguay's capital, to demand for equality, diversity, and more rights for transgender people in a new edition of the country's March for Diversity, Agencia EFE reported last Saturday.
The march was marked with the waving of colorful LGBTI flags, and headed from Plaza Independencia to the University of the Republic where a program that included a reading of proclamation and musical shows was held.
The event was centered on urging the government to pass a bill presently being reviewed by the Senate's Commission on Population, Development and Inclusion that comprehensively covers rights for transgender citizens, particularly in the areas of education, job opportunities and access to healthcare.
Lesbian, gay, bisexual, transgender and intersex (LGBTI) activist Collete Richard said that the current version of the legislation is important because it does not consider transgender individual as pathology.
"We are not sick people, the law would be the lever to reach the full enjoyment of rights," Richard said.
Transgender people continue to be marginalized in society particularly in the labor market where they face discrimination.
The 2016 census showed that there are 900 people who identified themselves as transgender. It also indicated that 67.6% of them either worked exclusively or have worked at some point in their lives as sex worker.
For transgender community member Paul Contini, working as a sex worker can be the only way out for them because of the difficulty in securing a job.
Nonetheless, he said that the March for Diversity is a good way to celebrate the advances that have been made in recognizing LGBTI rights in the recent years.
According to sbs.com.au, Uruguay has been recognized as a leading progressive country in Latin America with the passage of several key legislations that support and protect LGBTI rights, such as decriminalization of same-sex marriage in 1934 and allowing gay people to marry legally, adopt children, and serve in the military.
It added that this year, the government is considering paying reparation to transgender people who suffered persecution in the country's military dictatorship during the 1970's and 1980's, when they were detained and tortured by the state.
In 2009, Uruguay passed into law the right for transgender people to have their gender identity legally recognized in their official identity documents and to change their name, according to a report by Transequality.org.
"Everyone has the right to free development of his personality according to his own gender identity, regardless of their gender is biological, genetic, anatomical, morphological, hormonal, or other assignment," a passage of the law reads.
In order to be approved in the courts, applications for civil sex change will be evaluated by a team of interdisciplinary experts.
The law requires that the applicant must be diagnosed with the stability and persistence of gender dsyphoria – a condition of distress involving the conflict between a person's gender assigned at birth and the gender he or she wishes to be identified with – for at least two years.