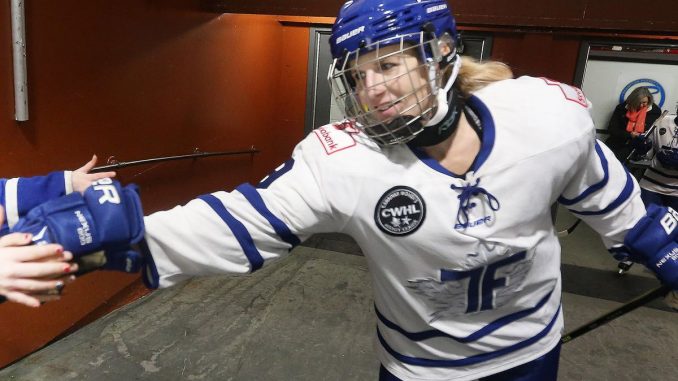 Jessica Platt, 28, an athlete for the Canadian team Toronto Furies, becomes the first openly transgender woman playing in North American hockey league.
She said that playing professionally is challenging for trans woman like her growing up without any role models in the sport.
The Canadian Women's Hockey League responded positively and gave a statement of support for Platt's coming out.
Jessica Platt, a hockey player for the Toronto Furies and one of the athletes in Canadian Women's Hockey League (CWHL), revealed on Instagram that she is transgender according to the transgender news article by GayStarNews website posted on January 12.
"After a lot of thought I would like to announce that I am transgender," she wrote. "I am fortunate enough to be able to live my life as who I am meant to be as well as follow my passion and play the game I love."
Coming out as trans
Platt, 28, played as an alternate in four games in 2016-2017 season. She joined her first full season last year.
She acknowledged the amount of support that she received from the people around her and especially those from the sports.
"With the support of my family, friends, the CHWL and the Toronto Furies I am able to live my dream while being true to myself," she said. "I hope that others will be as fortunate as I am, now and in the future. I want people to know you don't have to quit pursuing your dreams to be the person you were meant to be."
Statement of support
The hockey league responded positively and gave a statement of support for Platt's coming out.
CWHL issued a statement through commissioner Brenda Andres who said, "Inclusivity has always been a major strength of our league and with today's announcement that has only been reaffirmed."
"We support all those involved with our league and that support is provided regardless of race, religion, sexual orientation, gender identity or gender expression," she continued.
Groundbreaking
Platt grew up in Brights Grove, Ontario, about 180 miles west of Toronto.
ESPN revealed that her decision to come out made her the second transgender player in North American professional hockey and the first transgender woman to do so.
CWHL worked with LGBT inclusion group You Can Play earlier this year to update its policy on transgender players in order to conform to the standards of International Olympic Committee and recommendations from Hockey Canada.
"I'm hoping I can help other trans people and trans athletes know that they can achieve their dreams," she stated. "Even if one person is inspired or helped, then I feel like I succeeded at something."
Playing for the Toronto Furies was not something she would expect to happen ever since she started playing in a home-made ice-rink her family built when she was a kid, saying that playing professionally is challenging for trans woman like her growing up without any role models in the sport.
She said that questions about her gender identity started when she was in high school, saying, "I felt like I was missing out on the experiences that I should have been having."
Meeting difficulties when she tried to fit in the bro culture of the sport and playing in boy's high school hockey team, she said, "I was alone there, and I wanted to know if there were other people who felt like I did."
Quitting the sports upon graduating high school and pulling away from the family, she soon tried to learn as much about herself. She wanted to transition but she was terrified of breaking the news to her family, particularly to her parents.
"I'd read stuff online about people being disowned for being gay or being transgender," she said. "It terrified me to be disowned and be on my own just like that. So I talked less and just started slowly closing myself off."
Starting medical transition in 2012, she came out to her family before taking hormone replacement therapy.
She fell in love with the sports again when she took a second job teaching kids to skate in 2014. She then joined a local recreation league, and tried out for the CWHL.
"She's pretty raw from a talent perspective," her coach Flanagan said. "She's got great speed and a good shot, but what really drew us to having her on the team was her work ethic and grit."
"Hockey has been my favorite sport since I learned to skate," Platt said. "To be able to play again and do so professionally has been a dream come true."
While her earnings from playing in the league aren't enough to make a living wage, she worked as a cashier to supplement her hockey career, a job that allowed her to attend evening and weekend practices.
"I've been so happy and so confident," she said. "I want people to see that if someone is going through a hard time because they're trans or gay or bisexual that there is a light at the end of the tunnel. There's potential to be happy and live the life that you've always wanted."
In recent years, there have been many famous transgender athletes coming out and playing professionally such as trans swimmer Schuyler Bailar, trans volleybelle Tiffany Abreu, and Muay Thai boxer Nong Rose.