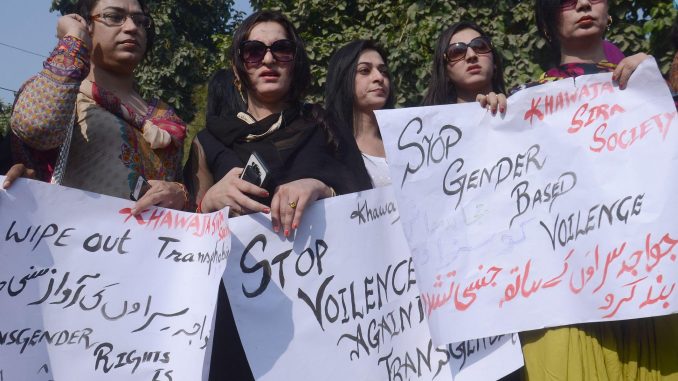 Pakistan was in the international news lately for the gruesome killing of an unidentified transgender person whose beheaded and decomposing body was dumped in north-western city of Peshawar last Sunday.
With growing concerns over the safety of transgender citizens across the country, activists are pressuring the government to beef up security to protect them from violence and to be given a seat in the Parliament, The News International reported on Friday.
Community leaders and human rights activists gathered in a discussion conducted at the Human Rights Commission of Pakistan (HRCP) in its Karachi office on Thursday. Among the key speakers in the gathering were Sindh Transgender Network leaders Shahzadi and Ihsan Ali, and transgender medical student Sarah Gill.
Ishan Ali said that two political parties, Muttahida Qaumi Movement-Pakistan and the Awami National Party, expressed support in giving the transgender community reserved seats in the Parliament.
However, Ali denounced the misrepresentation of the true number of transgender people in the national census, saying, "In an HIV survey a few years back, over 7,000 transgender people were counted in Karachi alone, while the recent census data shows that there are only 10,000 transgenders in the entire country."
Ali further criticized the failure in providing relief or facilities for transgender people by the Sindh Social Welfare Department
Transgender people being one of the most marginalized communities in the country, I A Rehman, a senior human rights activitists, stated, "They face social exclusion, discrimination, lack of education and other basic facilities as well as unemployment."
"The main problem is not being accepted in society. Even their families do not accept them and force them to leave home," he said.
Continuing to face violence, transgender people's major concern is security according to Shahzadi.
"Law enforcement personnel, especially police, who are responsible for protecting citizens, are in fact involved in harassing transgender persons," she stated. "Even to register an FIR in a police station, we need the support of HRCP and other such groups."
An FIR or first information report is a written file prepared by police when they receive information about an offence and is also the first step in setting the justice system in motion.
A victim of torture, Gill said that violence targeting the transgender community goes unnoticed even with repeated attempts to call police assistance, decrying the lack of actions done to guarantee their safety.
According to activist Uzma Noorani, transgender rights are part of human rights and should therefore be as equally protected. She said, "There are similarities between the movement for rights of women and transgender people."
During the gathering, the formation of country-wide alliance, the All Pakistan Transgender Election Network (APTEN), was announced. The alliance is going be a political group that aims to represent transgender agenda in next year's general elections as well as empower transgender people.
A convention or festival for transgender was also suggested in order to help people get to learn more about the transgender community, demand security from the government, and advocate for legislative reforms protecting their rights.