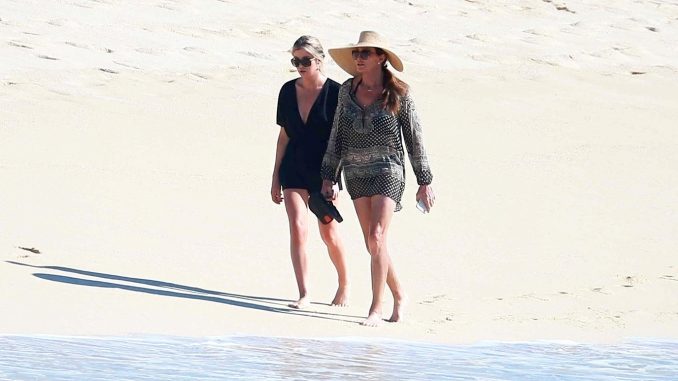 Caitlyn Marie Jenner denied rumors that she is dating student and transgender model Sophia Hutchins in a report by the website US Weekly on Friday.
Speculations that Jenner, 68, and Hutchins, 21, are in a relationship exploded on the internet after pictures of the two walking on the beach together on October 29 surfaced.
On both of their Instagram accounts, they shared that they stayed at Las Ventanas al Paraiso, a Rosewood Resort, in Mexico.
Jenner earlier revealed that she is in no rush to fall in love again.
"To be honest with you, I can't see myself dating women in the future. I've been there, done that. I have three very strong ex-wives. I just don't see it," she said in her I am Cait documentary last March, 2016. "I don't see a woman being attracted to me. If there was a female in my life, it would be more like a friendship than it would be a serious relationship."
Formerly known as Bruce Jenner, Jenner was a successful Olympic gold-winning athlete. She transitioned from male to female in 2015 and underwent gender confirmation surgery in January.
She has six children and was previously married to interior designer Chrystie Crownover, actress Linda Thompson and reality show personality Kris Jenner.
Since 2007, she was part of the reality television series Keeping Up with the Kardashians together with Kris Jenner, their daughters Kendall and fashion model Kylie Jenner, and her step-children.
Jenner is also the oldest to appear on the cover of Vanity Fair in 2015 (she was 65) and is the most famous transgender woman in the world.
On the other hand, Hutchins is a student at Pepperdine University and has been a class president since 2014 according to the website Heavy.
In addition, Hutchins works as a Junior Analyst at the Endowment Investment Office of the University.
With a passion for financial literacy, Hutchins is an active student networking member of the CFA (Certified Financial Advisors) Society of Los Angeles.
"I enjoy learning about finance outside of the classroom by speaking with professionals in the industry," she said.
She transitioned to be a transgender woman in college, a decision that was not easy for her to make.
"I've always had the question of "Do I want to transition from male to female?" she shared in an article by the Daily Mail. "I never thought a lot about doing it until I got into college because I was able to break away from my family and started to establish my own identity."
Citing Jenner as one of her inspirations, she told student newspaper Pepperdine Graphic in December last year, "[Jenner's transition] made it so much more real for [me], like normal and successful people do this and people are OK when they do it."