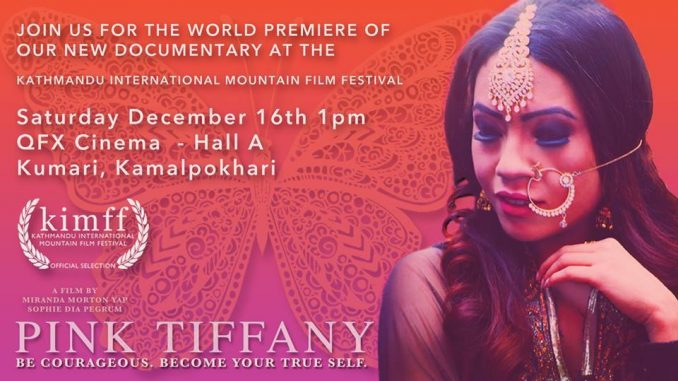 Pink Tiffany, a documentary on the life of model, businesswoman, and LGBT advocate Meghna Lama, premiered in Kathmandu International Mountain Film Festival.
Audience hailed Lama as a role model and congratulated the filmmakers Miranda Morton Yap and Sophie Dia Pegrum for bringing on screen a tale of triumph from the transgender community.
Both Yap and Pegrum believed that while Nepal has progressive pro-LGBT rights legislation, the society at large still see transgender women and other members of the LGBT community as inferior.
Pink Tifanny, a story about the incredible journey of transgender woman and activist Meghna Lama, premiered at the Kathmandu International Mountain Film Festival (KIMFF) to rave reviews.
According to the transgender news published by the Kathmandu Post today, Pink Tiffany met warm and glowing reception when it premiered in the film fest and is the early favorite to bag the prestigious Audience Choice Award.
The audience during the premier, including actress, Nisha Adhikari and singer Ani Chyoing Drolma, praised Lama, the film's protagonist, for becoming a role model for many. They also congratulated the filmmakers Miranda Morton Yap and Sophie Dia Pegrum for bringing on screen a tale of triump from the transgender community.
After the screening, they also commended Lama's parents for having a courageous daughter.
Basking in the positive response of their film, the filmmakers stated that meeting Megan Lama was a happy accident.
"I was editing Daughters of the Curved Moon, and I would see Meghna from the window of the room where I was holed up editing," Pegrum, the film's director, said.
Daughters of the Curved Moon is the first movie Yap and Pegrum screened in the festival while Pink Tiffany is their second.
The two started filming on the day they decided to approach and talk to Lama.
Produced by award-winning documentary production outfit, Shakti Pictures, Pink Tiffany chronicled Lama's difficulties and triumph living as a transgender woman according to Online Khabar website.
"Meghna Lama is charismatic torch-bearer, demanding a fresh look at old ways by sharing her story with an honest examination of her family, her struggles, her entrepreneurship and her climb to become a successful business woman," the company said. "Bravely embracing her transformation from son to daughter, her dauntless attitude and spirited laugh become a powerful reminder of not only what it is to be transgender in Nepal, but ultimately, what it is to be human."
Coming out to her parents when her brother passed away, her gender became the cause of family and social rifts. She also suffered harassment from the police that accused her of prostitution.
Winning Miss Pink, a transgender beauty pageant, in 2010, Lama had become a successful model, businesswoman who owned and managed the Pink Tiffany restaurant in Thamel, and LBGT advocate.
She dreamed of being married one day in a Bollywood-inspired wedding where she will arrive in a chariot and her husband in a helicopter.
In an interview by My Republica website, Yap and Pegrum said, "Through the film, we have tried to paint a picture of the circumstances that a transwoman has to go through in Nepal."
Meeting Lama last year, they shot the film from December to April and explained, "She was open about her being a transwoman and surprisingly her family too agreed to speak about it with us. We also came to know that Meghna had opened her second restaurant — Pink Tiffany in Thamel. So the story as a whole is an inspiring one and we thought it needed to be told.
Both believed that Nepal is progressive in terms of legislation for LGBT rights. It is one of the few countries in the world that allow legal gender recognition for transgender people.
Other transgender women also become successful in their chosen field, such as the likes of Nepali international model and transgender woman Anjali Lama.
In October, the very first transgender couple were married and found acceptance in their community.
However, they said that society on the ground still perceive members of the LGBT community to be inferior.
"Most of the transwomen do not get socially dignified jobs because of the prevailing biasness and pre conceived notion against certain genders. We can find many transwomen being involved in prostitution for want of better employment opportunities. We need to learn to see other people for what they are, what they believe in, their ideas and not which gender they belong to," they said.