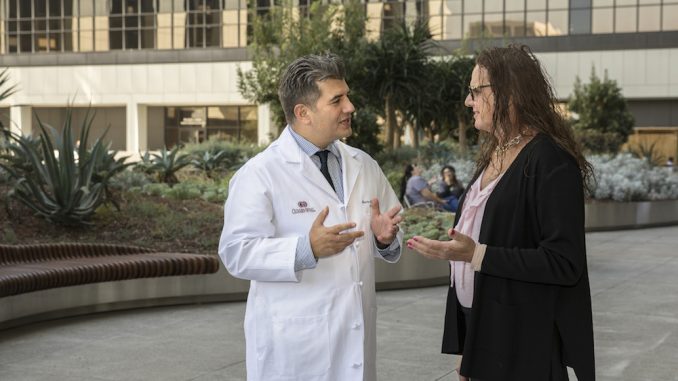 Current medical education in the United States only offers five hours on average dedicated for LGBT-related concerns.
By bringing transgender surgeries to academic medical centers, Dr. Maurice Garcia hopes that future doctors will no longer go abroad to find a mentor on providing transgender care and surgery.
He hopes to provide comprehensive patient care that includes providing assistance in health insurance coverage, recovery, and group patient sessions.
In 2000, the young surgical intern Dr. Maurice Garcia received transgender patients who had negative experiences with doctors.
According to transgender news by the Huffington Post last December 9, he recalled one patient who was refused to have her testicles removed – a procedure that was routinely done for people with cancer – was told, "I'm not a transgender surgeon, you have to find someone else" or "I don't believe in that."
These roadblocks led patients to go to countries like Mexico and Thailand to undergo cheaper gender-affirming surgeries with potentially lower medical standards. Upon their return to the United States with complications from their surgeries, Dr. Garcia and his colleagues at University of California, San Francisco (UCSF) were at a loss on how to manage the injuries.
Inadequate transgender care studies
In a 2009-2010 survey of deans from 150 medical schools, medical curricula only allocate five hours on average dedicated to LGBT-related studies, an insufficient preparation to check and to provide treatment for about 1.4 million American adults who identify as transgender.
Dr. Garcia wanted to give better health care for his patients. He went to study in the United Kingdom for year and with the guidance of experienced surgeons, he created a curriculum on transgender surgery.
Returning to the United States, he established gender-affirming surgery program at UCSF and later established Transgender Surgery and Health Program at Cedars-Sinai Medical Center in Los Angeles, the second medical center to offer such surgery in the West Coast.
Dr. Garcia believed that these programs in academic medical centers could benefit transgender patients not only in California but the entire world as the institutions that establish them publish important researches in peer-reviewed journals on genital surgery, which could help injured soldiers or cancer patients wanting to retain fertility, sexual or urinary function.
He also stated that research and expertise developed in the center could transform how doctors would compassionately and competently treat transgender patients.
Surgeries performed at academic centers rather than private clinics – where most of these procedures are currently conducted – can fill the gap in medical education according to Dr. Loren Schechter, the director of Chicago-based Weiss Memorial Hospital Center for Gender Confirmation surgery.
"One of the things that's lacking in medical schools is gender education," Schechter said. "When academic medical centers are performing the surgeries, you've got exposure to medical students ― the next generation of doctors."
Fellowship program for transgender care
Dr. Garcia is also in setting up plans in creating a fellowship program for those who wish to specialize in transgender care and surgery. Scheduled to be launched in the next summer, it would follow the growing trend of medical institutions offering the program including the Icahn School of Medicine in New York, Weis Memorial Hospital in Chicago, and just recently Hahnemann University Hospital in Philadelphia.
He hoped that this will provide future doctors an avenue to learn and acquire expertise and will eliminate the need to go abroad just like what he did when no one could mentor him many years back.
"Private practice is a very lucrative business," Dr. Garcia said. "There isn't a natural incentive to train people who will then compete with you."
Health coverage
The advantage of academic medical centers such as the Cedars-Sinai Medical Centers and other similar institutions is that they have considerable power on insurance coverage. Patients on Medi-Cal and Medicare can rest easy as their coverage is accepted and therefore can access treatments that otherwise would have been expensive in private clinics.
On average, transgender people have lower chances in having health insurance. Gender-affirming surgeries, growing almost 20 percent since 2015 according to a study by the American Society of Plastic Surgeons, cost them tens of thousands of dollars they have to pay personally.
For example, Nikolai Miles, 26, a security guard from California, was promised by the private clinic where had his double mastectomy in 2014 that they would work to help him make his insurer pay the cost of $8,500 which he paid up-front.
He soon found out when he was recovering that the clinic did nothing and no reimbursement was forthcoming.
"It was pretty crazy, and there were unfortunately a lot of aggravating curse words," he said. "I wasn't as appropriate on the phone as I should have been. It was a stressful moment, but there was no going back from it."
Mile was referred to Dr. Garcia at Cedars-Senai, whose office worked with the health insurance company to obtain authorization and coverage before his next procedures. He has had a scrotoplasty and a phalloplasty.
"I thought for so long that I was never going to have bottom surgery, because it was so expensive," Miles said. "As soon as Dr. Garcia said he was going to work with insurance, I felt like I was going to fall off my chair."
Miles paid only $1,500 for procedures that would have cost him $60,000 to $100,000 in private clinics.
"It's enough, in itself, to give anybody goosebumps," he said.
Dr. Garcia and his colleagues are working for a comprehensive transgender health care just like what Miles received. Helping patients with their insurance coverage, connecting people with similar surgeries, or offering makeup sessions for transgender women before going back home are patient-centered care for the whole person and not just their body, something that Dr. Garcia wanted to offer.
"It's about making people feel whole, and recognizing it's a whole person we're taking care of, not just the genital area," he said