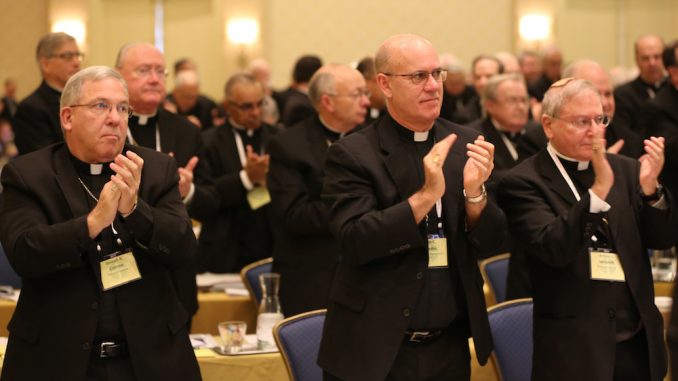 An open letter published on United States Conference of Catholic Bishops called out transgender identity as a false idea.
While urging compassion, the signatories of the statement uphold conservative beliefs against transgender people.
Advocates, both secular and religious, condemned the letter and considered it heinous and immensely damaging.
Advocates criticized the open letter that considered transgender identity as false idea issued by a coalition of conservative religious leaders according to transgender related news by the Pittsburgh Post-Gazette on its website last Saturday.
The open letter, posted on the website of the United States Conference of Catholic Bishops last December 15, affirmed that marriage is between a man and a woman and that gender is intertwined with sex.
"…many of us came together in the past to affirm our commitment to marriage as the union of one man and one woman and as the foundation of society." It explained, "We come together to join our voices on a more fundamental precept of our shared existence, namely, that human beings are male or female and that the socio-cultural reality of gender cannot be separated from one's sex as male or female."
The statement bore signatures of four Catholic bishops and other conservative leaders of the Orthodox Church, Anglican Church in North America, the North American Lutheran Church, the Lutheran Church – Missouri Synod and the Presbyterian Church in America, and Washington-area Muslim organization.
Compassion and conservative beliefs
The letter urged everyone to show compassion for transgender people, but at the same time holding on to traditional beliefs on gender.
"As religious leaders, we express our commitment to urge the members of our communities to also respond to those wrestling with this challenge with patience and love."
It continued, "The movement today to enforce the false idea—that a man can be or become a woman or vice versa—is deeply troubling."
Additionally, it called out the use of hormone therapy among children, saying it caused sterilization.
"Children especially are harmed when they are told that they can "change" their sex or, further, given hormones that will affect their development and possibly render them infertile as adult," it stated. "Parents deserve better guidance on these important decisions, and we urge our medical institutions to honor the basic medical principle of "first, do no harm."
Transgender movement
It went on to urge the government to maintain binary standards on sexuality.
"Gender ideology harms individuals and societies by sowing confusion and self-doubt," it continued. "The state itself has a compelling interest, therefore, in maintaining policies that uphold the scientific fact of human biology and supporting the social institutions and norms that surround it."
Advocates dispute the statement
Advocates from religious institutions slammed the statement.
"The statement perpetuates the double falsehood that gender is a choice and that children are being encouraged to think of gender as a choice," explained Francis DeBernardo, executive director of New Ways Ministry that works for affirming members of the LGBT community to society and Catholic Church. "To force someone to live inauthentically is neither healthy nor holy."
De Bernardo commented, "[The letter assumes] gender is determined only by genitalia, a view which modern science and people's experience have shown to be insufficient. Gender is also determined by other biological factors, often not immediately visible, such as hormones, genetics, brain composition, and internal self-understanding."
Rev. Janet Edwards of the Presbyterian Church exclaimed, "I accept the signers' sincerity but I find it lacking in respect for the lived experience of these courageous people whose lives are at risk when they claim their sense of what exactly God made them to be."
"These church leaders think they have the power to define these people, insisting they must be either male or female, when they do not have that power," she said.
LGBT groups have also responded negatively to the letter.
In a statement to NBC News, Marriane Duddy-Burke of LGBTQ Catholic group DignityUSA, said, "This is a heinous and immensely damaging letter that we condemn in the strongest terms… At best, those who have signed and promoted it do not appreciate the tremendous harm that it could inflict. At worst, they are cynically and callously disregarding the emerging scientific and social understanding of transgender people and their identities in the service of outdated and inaccurate ideas."
The National LGBT Weekly also responded through LGBT Weekly, "Finally, we implore those religious leaders who signed the ill-conceived, trans-denying letter, "Created Man and Woman," to reach out and connect with transgender people – you obviously know little about their lives, struggles, victories and aspirations. You will learn a lot about the divine's creative genius if you walk and talk with transgender people and really listen to their stories."