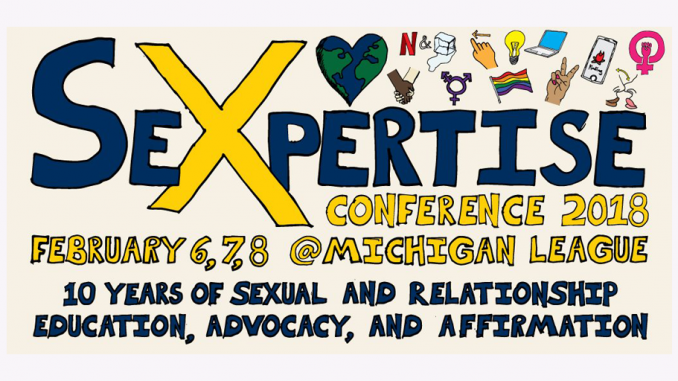 The 10th annual Sexpertise, a three-day conference hosted by University of Michigan Health Services, featured transgender sexuality and health.
Speaker Brendon Holloway shared that each transgender individual goes through transition as well as sexual activity differently in terms of experiences.
Holloway also included the finding in 2015 Transgender Survey that showed a significant number of transgender individuals avoid seeking healthcare to avoid mistreatment.
A university conference on sex included discussion on sexuality and sexual health of transgender people according to the Michigan Daily's transgender news article posted on February 7.
The 10th annual Sexpertise, a three-day conference, was held starting Tuesday, February 6, and discussed the sexual health experiences of transgender people, one of the nine selected topics that cover sexual health as well as safe practices and pleasure in intercourse.
The goal of the Sexpertise conference was to educate the student population, the academe, and other professionals on sexual health and experiences. This year, the event was sponsored by the University of Michigan Health Service, Brendon Holloway, Spectrum Center education and training graduate coordinator.
Unique transgender experiences
Brendon Holloway, the speaker, started the presentation regarding the concept of catch-all term "trans-umbrella" as a description for varied identities found in the transgender population.
He also stated that transition was a process that differs from one person to another.
"This looks very different person to person," he said. "Every transition is definitely different."
Part of the discussion was the physical transformation that took place during transition.
For instance, Holloway discussed that an individual who started on hormone replacement therapy will undergo changes in their anatomy. Those taking testosterone would have a deepened voice, fat redistribution and a change in body scent.
On the other hand, people taking estrogen would experience fat redistribution, growth of breast, and facial feminization.
He also explained how each transgender individual experience sex, just like the transition process, differently.
"There is no right way to have sex regardless of your identity," he said. "This is totally variable per person and needs are always changing."
Inclusive discussion
As a transgender man, Holloway said that the discussion on transgender health and sexually created a more inclusive discussion.
"It's very personal for me because I am a trans person," he said. "I want to spread information that I feel is from a very trans-perspective. I would rather a trans person present on trans topics than a cisgender (an individual whose gender at birth coincides with gender identity) person."
He also included a discussion on communication as important for sexual partners in order to have a worthwhile experience and highlighted three C's: consent, communication, and creativity.
"Communication is key," he said. "Sex looks different for every single person that you are going to come across. Your definition of sex may differ from my definition of sex … consent is mandatory."
The reception from the audience was welcoming especially to LSA junior Kymberley Leggett, who said that she learned many issues regarding the transition process.
"One of the biggest things I learned about was the different things that happen in transition for trans folks," Leggett said. "I had a trans friend in high school and didn't realize all that he was going through."
2015 Transgender Survey
The discussion also included a presentation on the findings from the 2015 Transgender Survey. Specifically, he mentioned that transgender individuals and their experience when seeking healthcare services or advice.
The survey revealed that 33 percent of trans individuals who met a healthcare provider reported negative experience, 24 percent said they educated a healthcare provider about their health, and 23 percent said they avoided seeing a doctor for fear of being mistreated on the basis of their gender identity.
The findings mirror similar survey in Canada, showing that young transgender Canadians may avoid healthcare due to discomfort.
The University of Michigan Health Service Mental Health Care Manger Diana Parrish also took the opportunity to announce that the institution would now offer trans-related healthcare service, including hormone therapy.
Up until now, patients were referred to external providers.
"We are working on having in-house providers who can initiate hormones which would be a major way of access for healthcare," Parrish said.