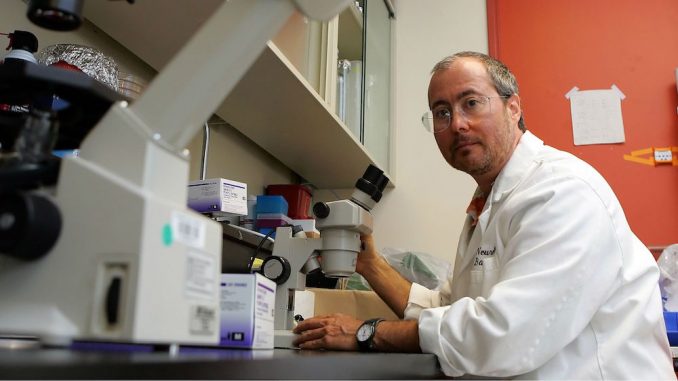 Scientists and colleagues remembered Ben Barres, transgender scientist, on his pioneering work in neuroscience and his advocacy for gender equality in the field.
He was also remembered for his generosity and in looking after the careers of other researchers.
Barres became the first openly transgender person to be elected to the National Academy of Sciences.
Transgender neuroscientist Ben Barres, known as the godfather of glia due to his work establishing the importance of glial cells in the brain, expired on December 27 succumbing to pancreatic cancer.
According to a transgender latest news by Washington Post posted on Wednesday, Stanford University, where he had been a professor and chair of its department on neurobiology, announced the sad news.
Scientific breakthrough
Barres, 63, was diagnosed of the disease back in April.
His work on glial cells, which made up 90 percent of the human brain but were overlooked by scientists, was pioneering. In 2005, he showed that glial cells perform the essential function of connecting neurons.
In 2011, he was inducted as a fellow of the American Association for the Advancement of Science and in 2013, his election to the National Academy of Sciences was a historic first for an openly transgender person.
"I think science is beautiful," he said in an interview in July of this year by Worldview Stanford. "What is more beautiful than discovering something that hasn't been known before."
Inclusivity and diversity in science
After he was confirmed a tenured professor at Stanford, he overheard a colleague saying, "Ben Barres gave a great seminar today, but then his work is much better than his sister's."
However, Barres has no sister in the field and the above experience gave him insight into inequalities in science and motivated him to correct them.
He is remembered for his scientific work and beloved for his efforts to make science more inclusive.
"His passion was for science," Stanford associate professor of neurobiology Andrew Huberman wrote on Barres' obituary. "His mission was to bring equality to how people are treated and promoted in science."
Two events shaped his motivation to champion diversity. The first was the speech of Harvard University president Larry Summers in 2005 suggesting that the difference between genders is the cause of underrepresentation of women.
Later on, National Institutes of Health gave a prestigious award program, all nine of whom were men.
These events made Barres rethink of the time when he was living as Barbara. A high school guidance counsellor discouraged him from applying at MIT in the 1970's. He later on ignored him, got accepted, and became the first person in the family to study in college.
He also recalled an incident with a math teacher who suspected he was being helped by his boyfriend on solving a problem and when a Harvard dean told Barres that he was the most qualified fellowship applicant but then went on to award it to a man.
He wrote on the journal Nature against inequality in the field of science, pointing out studies that showed young girls have high math stores and the gender bias that stunt them later in life.
"Until intolerance is addressed, women will continue to advance only slowly," he wrote. "The comments … about women's lesser innate abilities are all wrongful and personal attacks on my character and capabilities, as well as on my colleagues' and students' abilities and self-esteem. I will certainly not sit around silently and endure them."
He also used his lectures as an opportunity for his activism. Andrew Giessel, biologist and computer scientist, once recalled attending his seminar where he took a time out on discussing diversity.
Giessel tweeted, "… an act so outside the norm that it sticks with me to this day,"
Barres worried that championing gender equality might harm his career.
"Besides changing sex, the only time in my life when I have taken an action … I thought might harm my career is when I started fighting for the welfare of women in academia," he said in a 2008 Harvard talk.
Towering legacy of goodness
Beyond his groundbreaking studies and advocacy on gender diversity in science, he is remembered for his generosity and in looking out after the careers of others.
Barres, in another article he wrote for the journal Nature, urged newly-minted scientists with PhD's to set up their own laboratory. Stanford also revealed that on his last few weeks, he wanted to make sure he wrote the remaining letters of recommendation for younger researchers in his lab.
Neuroscience doctoral student Alycia Mosley Austin took to Twitter to remember how Barres once halted an interview to call a school for her behalf.
The announcement of his death prompted tributes of his goodness.
"I knocked on his door as a first year and Ben Barres stayed an hour later to give me advice about women and medicine," said Stanford student Natalia Birgisson.
"I once invited Ben Barres to speak to young LGBT students." recalled Trevor Sorrells of Rockefeller University. "He responded in 10 minutes."
"He made my life possible as a transgender neuroscientist," said E. Kale Edmiston of University of Pittsburgh.
Jo Handelsman, a molecular biologist and director of the Wisconsin Institute for Discovery, wrote on Twitter, "His impact on our understanding of glia was rivaled by his impact on diversity in science… Ben, you leave a towering legacy of goodness."