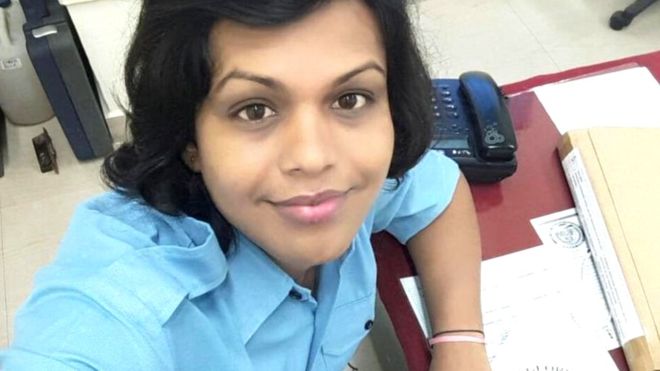 Upon her returning to work after a successful sex-reassignment operation in late 2016 which was performed while on leave from duty, Indian Naval officer Sabi alleged that the Navy confined her in a psychiatric ward for about five months.
Sabi, a trans woman previously called Manish Giri, was discharged from military service soon after but vowed to appeal the decision to the military court.
"It was like being in jail," she told BBC who reported the news on Sunday.
The controversy comes at a time when India has recognized transgender rights as third gender since 2014 and even dedicated a few state-run medical colleges to provide free sex-change surgery.
In addition, the court has also ruled in 2012 that an adult man shall face no legal impediment in undergoing sex-change procedure.
However, transgender Indians are in a bind. While on one hand their gender identity is recognized by the state and protected under the Constitution, they are judged for violating the law upon having consensual gay sex.
The law that dates back to the colonial era considers same-sex relationship as unnatural and carries a 10-year jail term.
"I am not a criminal," Sabi said. "I have done nothing wrong, I have only revealed my true identity."
In her interview with India Times in August when the decision about her status in the military was still being deliberated, she said that she loves her uniform and wants to serve her country.
She joined the Marine Engineering Department of the Indian Navy in 2010, but soon felt discomfort about herself and realized that she was a woman trapped in the wrong body.
She went on leave to undergo surgery in 2016 and rejoined the service in April this year.
After several days upon returning back to duty, she developed a urinary infection that forced her to see a Navy doctor. Her surgery was discovered during the consultation.
Serving in the INS Eksila base in Visakhapatnam, her commanding officer sent her papers to the naval headquarters in Delhi. She was soon served a show cause notice to explain her decision without informing her superiors.
She denied the allegation, saying that she asked help from the higher-ups and the Navy doctors but failed to obtain any valuable support.
"I had told my commanding officer about the trauma I am facing, but I was offered no solution." she stated. "I also consulted the doctors in the Navy, even they couldn't help me. They suggested me to undergo psychiatric treatment, and nothing beyond that."
She further alleged that her superiors are using this as an alibi to kick her out from service. Additionally, she said that there is no provision in the Navy regarding transgender soldiers like her.
Undergoing sex-change surgery, she thought, would change her life for the better but the opposite happened instead.
In its statement, the navy told BBC that her irreversible gender reassignment is not permissible under its current rules and regulations. It has yet to issue any statement to the allegation and declined to comment.