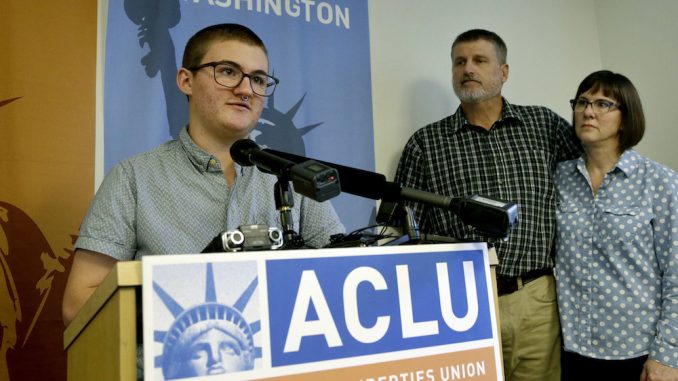 American Civil Liberties Union (ACLU) of Washington filed a lawsuit on behalf of transgender man Ari Robbins for being refused necessary medical procedure by Swedish Health Services.
The suit sought damages and alleged that the action by the healthcare provider constitutes violation to the state's anti-discrimination law.
Robbins said that it has caused pain and disruption in his life.
The American Civil Liberties Union (ACLU) of Washington filed a lawsuit against the Swedish Health Services and Providence Health & Services for allegedly refusing to perform necessary medical procedures for a transgender man.
On their transgender latest news published on their website on December 20, the ACLU suit was filed on behalf of the plaintiff Ari Robbins to seek for damages and stated that action by the healthcare provider constitutes discrimination, a violation to state laws in Washington, United States.
Gender-confirming healthcare
Robbins, naturally born a female, from Seattle, was distraught upon learning that the medical procedure, a chest reconstruction surgery as recommended by his healthcare provider, for his transition would not push through.
"When Swedish refused to treat me, it hurt me deeply, and disrupted my entire life," Robbins said. "No one should be turned away from the health care they need—and that their doctor prescribed for them— simply because of who they are. I'm bringing this lawsuit so transgender people in Washington won't have to go through what I did."
Gender-confirming procedures such as chest reconstruction surgery are recognized by medical organizations as safe, necessary, and effective treatment for individuals suffering from gender dysphoria.
Gender dysphoria is a serious medical condition where individuals suffer persistent distress due to the mismatch between gender assigned at birth and gender identity.
When left untreated, gender dysphoria may lead to a host of mental health issues such as anxiety, depression, self-harm and suicide.
Robbins was referred to Dr. Mary Peters of Swedish Plastics and Aesthetics, a clinic managed by Swedish Health Services and affiliated with Providence Health & services, a non-profit Catholic network of health services and 35 hospitals employing more than 20,000 employees in the state and the largest health care provider in Washington.
Cancellation of procedure
The suit alleged that Dr. Peters, who had performed multiple chest reconstruction surgeries in the past, cancelled Robbins' schedule for surgery along with other appointments from several other transgender people, an action that violates Washington Law Against Discrimination (WLAD) and the Washington Consumer Protection Act (WCPA).
"Treating transgender people differently than others is discrimination, and it is clearly illegal," said ACLU staff attorney Lisa Nowlin. "Under state law, no healthcare provider is allowed to single out people based on their gender identity and exclude them from a surgery that is prescribed for them and that the provider routinely makes available to others."
The discrimination by healthcare procedures may lead some transgender people to postpone or even forego preventative and even necessary medical care, putting them in a situation with greater risk for sickness and suicide.
Additionally, it also claimed that the cancellation of the surgery endangered Robbins' health.
Robbins was required to wait five more months in seeking medical care in Idaho and was forced to wear a chest binder, restricting his exercise to move freely and exercises and making him suffer back pains, neck pains, and acute headache.
He also has to postpone the start of his summer internship because he was still recovering from the surgery.