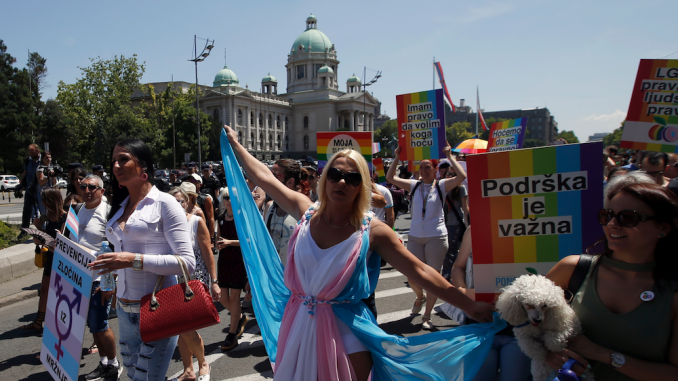 Transgender Serbians still look forward to an optimistic future despite everyday challenges they face including violence, lack of opportunities, and lack of legislative protection
United Nations Development Program (UNDP) report revealed personal security is the top priority for LGBT people in the country.
Many transgender people resort to sex work, increasing stigmatization and their risk to violence and sexually transmitted infections.
Despite the difficulties transgender Serbians faced in their everyday life, they still choose to look forward to a brighter future.
The transgender news article by the Balkan Insight posted on December 8 revealed that prevailing conservative attitudes hinder opportunities and even endanger the lives of many transgender individuals in this small landlocked country.
Violence
"In my childhood, I only saw myself as a girl," transgender woman and LGBT activist Milan Djuric said remembering her childhood.
But her memories growing up were that of a traumatic past, taunted and assaulted even by the girls at school.
"I was abused every single day," Djuric continued.
Unfortunately, data from the United Nations Development Program (UNDP) report seemed to suggest that Djuric's experience was common.
The report, Being LGBT in Eastern Europe and released ahead of the World Human Rights last December 10, pointed out that personal security is top priority of members of LGBT people in Serbia.
It also revealed that 70 percent of respondents reported psychological violence and harassment, 23 percent were physically assaulted due to their sexual orientation or gender identity.
When asked about the biggest fear among transgender people, Djuric answered, "To be killed."
Figures from 2014 Hate Crime Report showed that there were 34 instances of hate crimes committed against transgender victims in this year alone.
Djuric however refuted the number, implying that it could be higher as victims are afraid of reporting to the authorities.
"The problem is that many people, especially trans people, but also this applies to gay and lesbian people, don't report them because they don't have trust, rightfully so, in institutions," Djuric stated.
Lack of labor opportunities
The UNDP report also mentioned the lack of employment opportunities for transgender people, leaving many of them to resort to informal jobs such as sex work.
In the absence of official figures, it is estimated that about 6 percent of sex workers are transgender people.
Their being part of the sex industry further heightened their stigmatization and raised their risk to violence and sexually transmitted infections, including HIV.
Rosemary Kumwenda of UNDP Istanbul Regional Hub commented, "Despite some positive steps, much remains to be done. Marginalization in the workplace, violence in the family, classroom bullying and exclusionary laws still persist and must end. Discrimination starts early and runs deep."
Gender confirming surgeries
Belgrade, Serbia's capital city, is known internationally as the hub of sex-change surgery. The New York Times in 2012 claimed that the city is a destination for foreigners where they can undergo gender confirming procedures at far lower rates than in other countries.
For transgender Serbians, despite the availability of transgender-specific medical care and the coverage in the country's national healthcare, the social and political climate remains very discriminatory.
For example, transgenderism is considered a mental disorder. Government-subsidized insurance still leaves 45 percent of the bill to be paid by the patients.
Serbian laws also allow legal name and gender change only after undergoing full medical transition.
Those who chose to forego transition are in limbo.
Jovanka Todorovic of advocacy group Gayten-LGBT said, "Eighty per cent of trans people are not willing to go through that [surgical] procedure."
Many opted for surgeries such as breast reconstructions or hormone therapy, which is not covered by healthcare. In addition, there is shortage of hormone products and trans-friendly medical professionals.
"The problem is with the endocrinologists," a transgender man and LGBT activist Sasha Lasic said. "There is only one for the whole country who is trans-friendly."
Legislative reforms
Gayten-LGBT is pushing for a law that will forward and protect transgender rights in areas of legal gender recognition, healthcare, education and employment.
But activists expect protracted lobbying before such a law will be considered for deliberation in the parliament.
In the midst of these insurmountable odds against transgender Serbians, there may be a sliver of hope that make them hopeful for the future.
The case of Helena Vukovic was a litmus test of the country's treatment and approach to its transgender citizens.
Vukovic sued the military after she announced she was a transgender woman and was kicked out despite her two decades of service, with the military citing her psychiatric diagnosis as damaging to its reputation.
Her victory forced the military to restore her rank, suggesting perhaps that her senior position and service were more important than her gender identity.
Brighter Future
Remaining optimistic for what lies ahead, Djuric said, "As difficult as it is, and it is very difficult still, I have seen and hopefully contributed to a huge amount of progress in a short period of time."
"That doesn't mean that all the problems and pressures and transphobia will vanish – but I think it is getting better, and can only get better still," she concluded.