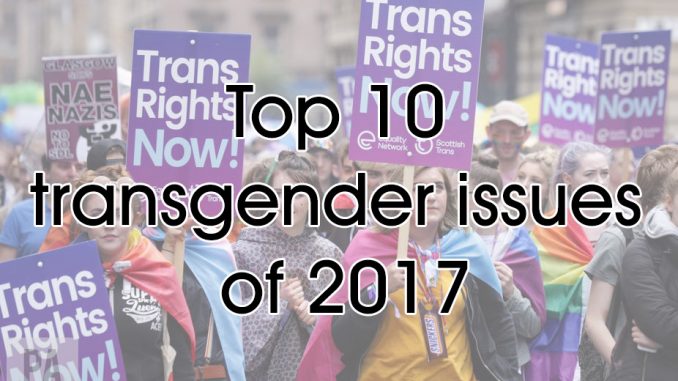 Transgender Universe released the top 10 transgender news that made the headlines in 2017.
The past year was most tumultuous for members of transgender community, marked with bittersweet victories and devastating losses.
Transgender Universe, through the website The Maven, released yesterday their top 10 transgender news that hogged the headline for the year 2017.
The past year was a mix of devastating losses and bittersweet victories for the transgender community.
There was trepidation as President Donald Trump assumed office at the start of the year. The carryover of the previous years on legal battles, ongoing 'bathroom bills', and the future of transgender rights coincided with the rise of white nationalism, deepening political division, and the post-truth culture.
Indeed, the community was tested beyond anyone could have imagined. Here are 2017's biggest transgender headlines.
10. Restroom bills
The so-called 'restroom' bills in Texas and North Carolina were soundly defeated but not without overcoming seemingly insurmountable odds.
The Republicans in Texas Senate led by Lt. Gov. Daan Patrick and Senator Lois Kolkhorst sought a law in banning trans-friendly facilities in government buildings and schools, which was successfully approved. It, however, was not allowed to come for a vote in the House of Representatives led by Speaker Joe Straus and by August, the bill is dead.
North Carolina, on the other hand, repealed HB2, a bill which would have forced transgender people to use facilities according to the sex indicated on their birth certificate.
Criticisms of the new law, however, revealed that the state will stand to lose $3.7 billion, give the power to decide on bathroom access regulation to state legislators, and prevent local governments from passing anti-discrimination ordinances on employment and public accommodations until December 2020.
9. Workplace discrimination
Lawsuits were filed throughout the year against companies due to workplace transgender discrimination.
Sam's Club, a subsidiary of Walmart, in particular was the defendant in cases filed separately by Jessica Shyne Robinson and Charlene Bost. Robinson was a long-time employee in Tampa and Branenton Florida and was subjected disciplinary action, demotion, and hostile working environment. She was also denied necessary medical coverage because she was transgender.
Meanwhile, Bost, working in Kannapolis, North Carolina, alleged she was harassed and then fired when she started transitioning. She suffered a barrage of hostile treatment from colleagues and supervisors such as being wrongfully disciplined and repeatedly misgendered.
Both cases are still pending while Walmart's HRC equality rating is suspended.
Amazon was also sued by married couple Allegra Schawe-Lane and Dane Lane. They allegedly experienced escalating and unrelenting discrimination and harassment after it was known Schawe-Lane was transgender.
Transgender woman and university professor, Dr. Rachel Tudor, was awarded $1.2 million after a jury found Southeastern Oklahoma State University discriminated her on the basis of her gender identity by denying her promotion and tenure.
8. Chelsea Manning's Freedom
Former President Barack Obama commuted Chelsea Manning's 35-year sentence, setting her free by January. Manning was jailed in a men's military prison and serving her conviction of leaking government information.
Her incarceration brought about discussion on the treatment of transgender people by both the military and the transgender community.
7. Non-binary recognition
Slowly, the non-binary community has received some form of recognition in the past year by several institutions.
The Associated Press, for instance, adopted gender-neutral language in their editorial guidelines while Oregon became the first state allowing third gender options in many public documents including driver licences and state identification cards. Washington D.C. and California soon followed, implementing non-binary gender option in state identification cards.
6. Gavin Grimm Case
The Supreme Court decided to forego hearing of the case of Gavin Grimm, who won against Gloucester County School District in Virginia when he was not allowed to use restrooms associated with his gender identity.
The decision by the Supreme Court was issued after the Trump administration revoked administration guideline that protected transgender students in schools. Had it decided on the case, the outcome would have consequences the rights of all transgender students in the country.
5. Death of Holly Boswell
Legendary transgender writer, activist and spiritual leader Holly Boswell passed away in August, 2017. She created the transgender symbol universally known and recognized today. She was a transgender peer counsellor, a community builder, and developer of educational curriculums.
She had also founded the Phoenix Transgender Support group in North Carolina, trans spiritual network Kindred Spirits, and retreat facility for gender and spirituality The Tree House.
4. Trump administration and transgender rights
Hopes were high that things are looking for transgender Americans when President Trump did not revoke protections for LGBT federal workers in February, but they were all dashed in the subsequent months.
For example, the guidance on transgender protections in schools under Title IX was revoked by the Department of Justice and Education. The DOJ also refused to appeal the court order to halt the enforcement of anti-discrimination protections for transgender people under the Affordable Care Act.
In addition, the Department of Housing and Urban Development removed helpful links on its website that provided information on emergency shelters for homeless transgender Americans.
Trump also banned transgender troops from serving in the military. The Justice Department then announced that transgender workers were not protected under 1964 Civil Rights Act from employment discrimination, overturning its efforts they took in February. The DOJ furthermore issued a statement federal agencies and contractors are allowed to discriminate transgender people on the basis of their personal religious beliefs.
By December, the press reported that the word 'transgender' was among the banned words in the budget documents filed by Center for Disease Control and Prevention.
In 2018, it is feared that the few protections left for transgender Americans would be revoked as a recent report showed that one-third of Trump's judicial nominees were open oppose to LGBT rights.
3. Transgender military ban
Perhaps the biggest story of the past year, Trump's July tweets to ban transgender service members from the military became a policy when he issued an order to the Pentagon to craft implementing guidelines by February, 2018.
The ban was challenge in court through lawsuits by transgender troops, military and ROTC students, and advocacy groups. Several institutions and personalities such as attorneys-general supported the suits, including the state of California.
In November, a US district judge Colleen Kollar-Kotelly ruled against the transgender military ban. The Pentagon had since released that it will push through enlisting transgender personnel starting January 1, 2018.
2. Electoral victories of transgender candidates
The one good news from year 2017 is the victory of transgender candidates to elected positions.
The history-making win of Danica Roem, a transgender woman, in Virginia legislature captured national attention. She was running against long-time, Republican candidate Bob Marshall who had introduced a bathroom bill banning transgender people from using gendered restrooms.
Other notable electoral victories of transgender candidates include Trans woman Andrea Jenkins and trans man of color Philipe Cunningham won a seat in Minneapolis City Council and seat the Fourth Ward in the city council, respectively.
1. Record-breaking transgender murders
The year 2017 is called the deadliest year for transgender people particularly those of transgender women of color.
There seemed to be no solution to stop transgender murders. Part of the problem is that different figures are reported by the press from different parts of the world, and the exact number may remain unknown due to misreporting of their gender.
The number of murders of transgender victims is related with the way society treats transgender community. Thus, the first place to start creating a solution is with how the media depicts the killings including the language and proper reporting of the gender of victims, the way the story of their lives is reported rather than making them part of the latest tally or body count, and caution in covering anti-transgender rhetoric that can potentially create fear and violence against the transgender community.
Until transgender people are treated decently as human beings deserving of equal rights and protection and until their rights will no longer be perceived as a political or religious issue, transgender killings will continue to be top news story for the years to come.