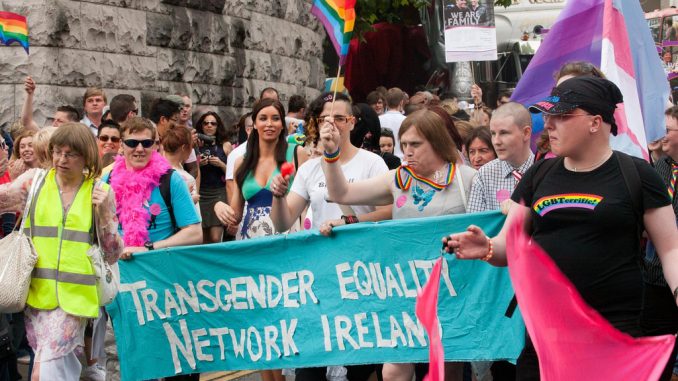 Ireland is one of only four legal jurisdictions in the world where transgender people can legally change gender with statutory self-declaration.
From September 2015 to September 2017, there were 277 applicants for legal gender change.
Westminster and the Scottish government are undertaking similar gender recognition legislation patterned after the gender recognition bill of Ireland.
In 2015, Ireland became one of only four legal jurisdictions in the world that grant legal gender recognition without the need to present a medical or court approval.
According to transgender latest news by the Guardian website posted last January 15, people can legally change gender solely by statutory self-declaration.
The shift in advancing transgender rights was made possible through the passing of the gender recognition bill which was enacted just months after the state passed same-sex marriage via a landslide victory in a referendum, a dramatic turnaround in a country where homosexuality was decriminalized only twenty years earlier.
Gender identity and bureaucracy
For activist Toryn Glavin, who started living as a woman at age 17 and works as office administrator in Dublin, she used to feel that it was easier not to go through the hassle of bureaucracy in changing her gender legally.
She soon faced the consequences.
"I was once stopped at the airport for two hours because they weren't convinced that I was who I said I was," she said. "I didn't apply for any internships at the end of college because I was so worried about not having the right documents."
Two years later, she declared herself female through a simple legal procedure.
She said, "It was a monumental change for me personally… It made me feel that I had the right to identify as a woman, especially because nobody else had a say in that or a veto."
Sara Phillips, Transgender Equality Network Ireland (TENI) chair, said that the system is user-friendly.
Applicants simply need to apply at a specialist government unit by completing a form and, before a legal official, signing a statutory declaration that they understand the impact of their decision and that they vow to intend to live in their gender identity for the rest of their life.
Framework review
Two years after it was introduced in the country, the gender recognition bill is being reviewed to accommodate consideration for younger teenagers and people with non-binary gender identity.
While no official studies were conducted yet, advocates claimed that the bill significantly reduced mental distress.
Senator Kevin Humphreys, who guided the bill through as then minister of state for social protection, asserted that it has a profound effect on Irish society.
He admitted that the earlier version of the bill was quite conservative, saying, "There was a certain amount of nervousness at first about where I was going, and a real concern about going too far too quickly for under-16s."
But the same-sex legislation that was passed earlier had caused a wave of change across the country. He said, "Irish people always were very private about their personal lives. This debate has allowed people to open up and do so respectfully in their own families and we are now so much the richer for that."
From September 2015 to September 2017, there were 277 applicants for legal gender change. Only nine were aged 16 – 18, an age group that would require court approval.
Rather than a sharp increase, the applications came in gradually and have steadily grown every month. For advocates, this gradual increase means that people are requesting for recognition as they fit in their coming out journey.
Opposition to the bill was focused on concerns about monitoring of sex discrimination and in providing sex-segregated services such as in prisons or refuges. However, with the low number of applicants, no such issues were reported.
Irish model of legal gender cognition
Last year, the Scottish government announced plans in forwarding a gender recognition bill similar to the Irish model, which would just require self-declaration and would remove medical proof of gender dysphoria – a condition of distress for people whose gender at birth do not coincide with their gender identity – and evidence that they live in their gender for two years before the application.
Westminster government is reported to be undertaking similar actions.
Senator Humphreys advised both, "I'd say to them to actually go out and make contact with trans people. One thing I learned was that this is a matter of equality and should be done in full consultation with the trans community."
However, James Morton of Scottish Trans Alliance described Scotland as having a closer collaboration between feminist and transgender advocates, something that is less apparent in Westminster.
"In Scotland there's really strong communication between women's equality organisations, trans equality organisations, politicians and civil servants. Scottish Women's Aid and Rape Crisis Scotland have become trans-inclusive without any problems occurring, demonstrating that improving trans equality is fully compatible with improving women's equality, and avoided misunderstandings about legal reform," he said.
On the other hand, communication with politicians is fraught with challenges in Westminster.
Morton explained, "Sadly, this can create fears and myths about trans equality but constructive discussions are making positive progress. As people look into the facts and speak in depth with trans people, they start to appreciate the need to improve trans equality."