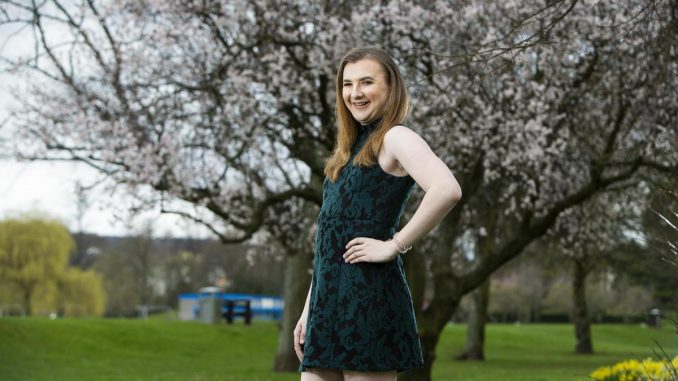 Aria Welsh from Perth, Scotland is one of the 30 contestants vying for Miss Transgender UK 2018 title.
If she wins, she hopes that her dream of transitioning would come true.
Born Thomas, Welsh had always felt different at a young age and decided to come out three years ago.
If Aria Welsh from Perth, Scotland will win the Miss Transgender UK 2018, she hopes her dream of transitioning would come true.
In a latest transgender news by The  Scottish Sun last April 19, Welsh was one of the 30 hopefuls vying for the national title and if she will bring home the crown, she would push through with her plans of undergoing sex reassignment surgery.
Multiple prizes
Born Thomas, Welsh had always felt different at a young age and decided to come out three years ago.
"I've always been feminine and used to pretend a towel wrapped around my head was long flowing locks," she shared. "I first came out to a transgender friend who helped me lots and was my rock. I then came out to my mum and my ex-fiancé."
She lamented the end of her relationship, which she realized was necessary for her transition.
"In hindsight it needed to happen so doors could open up for me," she stated. "The most uplifting thing for me is to be free, to be who I was supposed to be. To live my life by my own rules and not society's."
The winner of the beauty pageant will receive a trip to Thailand where she will receive a range of gender-affirming medical services, such as chest reconstruction, facial feminization, reshaping of Adam's Apple and reassignment procedures.
The entire package was estimated to be worth 10,000 pounds and would be given to the winner when chosen by the prestigious Kamol Hospital and deemed medically fit. She will also receive a modelling contract with the hospital as well as flights and accommodation.
Welsh, 26, explained that she planned to donate her personal savings allotted for the surgery to charity if she would win.
Moreover, she would throw a dinner celebration with her supportive friends and family.
"My family and friends have been the biggest support since I came out as transgender when I was 23," she said.
"I loved Thomas but sometimes I struggled to like him when he was a teenager," her mom concurred. "Aria on the other hand is a far more responsible and settled person who I am proud to call my daughter."
Fundraising
All contestants for Miss Transgender UK were asked to raise funds for charity on the way to the finals which will take place in Cardiff Wales by November this year.
Welsh chose to campaign for donations for the Stillbirth and Neonatal Death (SANDS), an organization that had a personal meaning for her.
"SANDS helped my family when we lost my brother who was a stillborn baby 15 years ago," she said. "The charity were always there to give us advice and they are amazing. I just can't wait to present the charity a huge cheque."
The final six contestants will be chosen based on the final amount they were able to raise and will be invited for the coronation event. Special awards such as Best Evening Gown, Best Talent and Best Creation will be up for grabs.