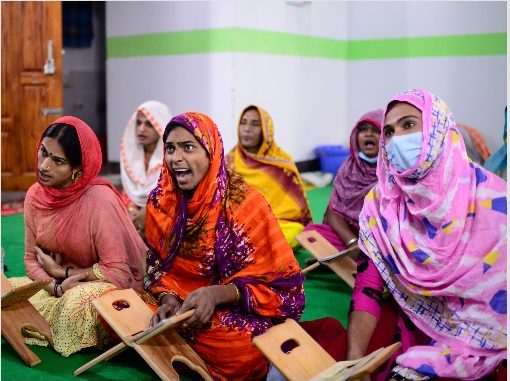 For hijras (intersex and transgender people in India), surviving often means having to resort to begging or prostitution. They are often harassed and pushed aside because of the stigma that comes with being trans in a conservative environment.
Although Bangladesh officially recognizes hijras as the third gender, it is still difficult for them to get opportunities because they are seen as sinners by conservative Muslims in India. They continue to live in their own communities as most of the hijra population is marginalized. But this school can help hijras get educated in a place where there are few opportunities for them.
The Dawatul Quran Third Sex Madrasa is the first school for hijras in Bangladesh. The school opened November 6, 2020 and was possible thanks to the funding of an army officer and the mission of a cleric.
Currently, there are 20 hijras in the school but slowly there will be more students as the months pass. In the school, they teach lessons in the Qurans as well as English, math, social sciences, and Bengali. The school is a Quawmi which means it is not being regulated by the Bangladesh Madrasa Education Board. This is common among schools that are private charitable organizations that survive through donations.
One of the students was interviewed and said, "We didn't get the chance to get an education in regular school or madrasa. Society ostracized us. Now, I am ecstatic to get that chance."
The principal of the school, Imam Abdur Rahman Azad, started this project because he thought of the injustice that hijras are subject to and that he must do his part in helping them. He started by teaching some lessons to hijras in mosques until he was teaching up to 6 mosques in the capital.
Last year, he finally realized his plan of creating an institution for education after he agreed with Rihanul Bari Chodhury, a top-ranking army officer and the son of a wealthy business owner, to fund the school. Though it might be a while before hijras become accepted into society, the school is one step towards integration and inclusion to this specific minority.