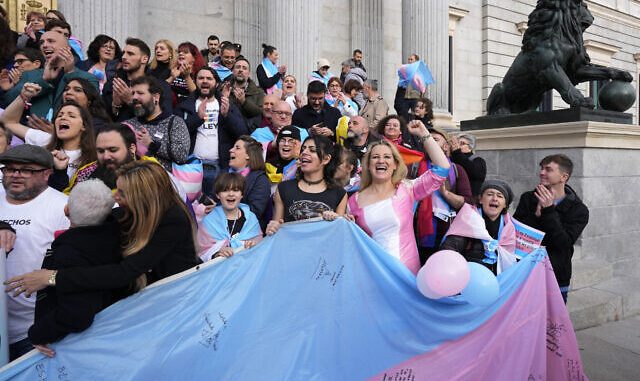 Spain has passed a law in its lower house making it easier for trans people over 16 to change their gender legally without medical supervision. Minors aged 12-13 will have to get a judge's authorization, while trans teenagers between 14-16 will need to be accompanied by their primary caregivers to make the change.
Currently, Spanish trans individuals can only change their gender after a diagnosis of gender dysphoria by several doctors. In some cases, they need to present proof that they have been living with the gender they identify with for two years or have undergone hormone replacement therapy.
On the same day, Scottish Parliament approved a bill allowing people to declare their gender on documents without medical certification. The new self-identification bill requires only at least three months of living as their declared identity full-time as opposed to the previous requirement of two years. Those who are 16 to 17 years old will need to have lived with their preferred identity for 6 months. The bill also lowers the minimum eligibility age from 18 to 16.
The passing of these bills has gained a public divide in both countries. Those who are against it are claiming that lowering the requirements makes it easier for predators to prey on safe spaces for women.
"This presents potential risks to the safety of women in all their diversity (including women born female, trans women, and gender non-conforming women)," Reem Alsaleem, UN Special Rapporteur for Violence against Women and Girls wrote in a letter.
However, UN independent expert on sexual orientation and gender identity, Victor Madrigal-Borloz, said there was no proof to back this claim. There is no evidence between sexual abuse against women and the self-identification of trans individuals.
"At the moment, 350 million people live in systems of legal recognition based on self-determination, and there is not, to my knowledge, one single administrative or judicial finding that this system is actually abused by predatory males," Madrigal-Borloz said.