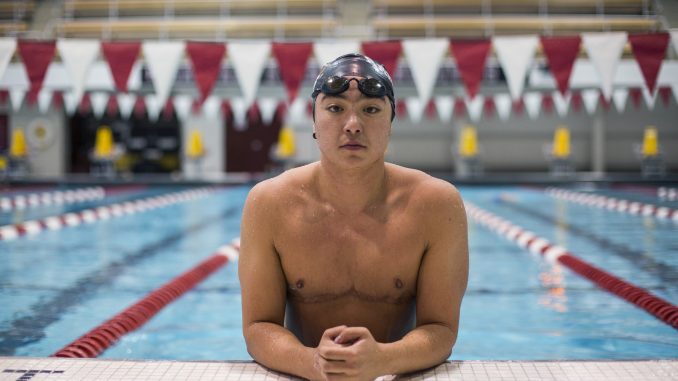 " This is the only thing I'm supposed to be doing right now. This is the only place I need to be. That brings me a lot of peace I think I don't have in my daily life". 

These are the words of Schuyler Bailer who is a transgender athlete on the Men's Swimming and Diving Team at Harvard university. Schuyler was born female at birth and now identifies as male. He may be lucky to have a genuine support from his parents and friends, but the struggle inside to know what he really wants and who he wants to be was agonising.
Schuyler is a water baby as he describes himself, he has always and will forever love swimming. During his high school years, his swimming career took off both locally and nationally as he was competing under the female category. After he graduated from high school he was able to get into Harvard University. This is where his story gets really interesting, as his love for swimming might be comprised after he decided to transition. In 2005, at the age of 18, he decided to transition from female to male. This decision made it a lot easier for him after he underwent a program that helped him find himself and identify as a transgender man. It took him one year to tell his friends about his gender identity and asked them to use male pronouns and to refer to him as a boy. Transitioning scared him that he may not be able to swim and compete again. But the Men's Swimming and Diving Team at Harvard University opened their doors to him. This made him the first openly transgender NCAA (National Collegiate Athletics Association) D1 athlete. Surpassingly there was doubt from Schuyler's end if he will go and continue swimming and competing under the male's category. But his words were self affirming and motivating: "Ok I've got to take this risk,I've got to try to be myself because maybe that will make me happy".
Here is the full story of Schuyler:
Schuyler as a motivation speaker loves to share his story, his unique story. A story that hopefully will inspire young people to continue reaching for the dreams and be happy for being their genuine selves. His fight for becoming who he really is would be impossible without the support form his family. As he said: "My Family has never shown me a lack of love, and that has been  what's kind of kept me alive".