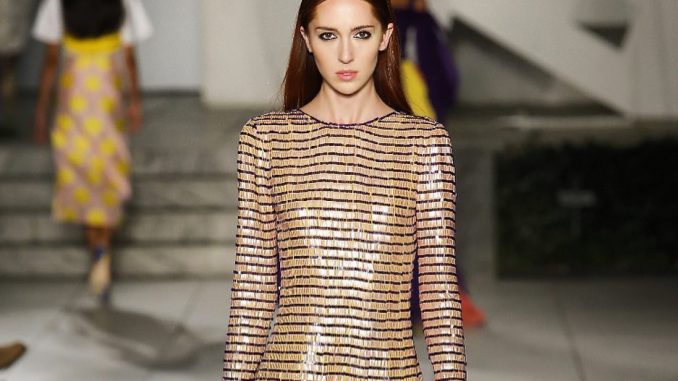 "You are yourself; you aren't afraid to be yourself."
This was the response of world-famous runway model and campaign regular Teddy Quinlivan when asked by Fashion TV in the backstage of Emmanuel Ungaro fashion show in February this year, "What is the quality you need to have in order to reach the top and stay at the top?"
Indeed, she stayed true to herself in a stunning revelation that she is a transgender woman in an exclusive CNN Style interview last Wednesday.
Quinlivan, 23, was born in Boston and discovered by French fashion house Louis Vuitton in 2015 to international stardom. She has so far graced the runways of global designer brands like Gucci, Christian Dior, Marc Jacobs, and Diane von Furstenberg.
Her coming out as a transgender woman was a personal decision she made for herself. She was ready to come out for quite some time, but the current political climate that had not been favourable to transgender individuals pushed her to speak out with a sense of importance and urgency.
"I've decided to reveal my trans identity because of the political climate in the world right now — particularly in the United States," she explained in the interview. "We made an amazing progression under the Obama administration, and since the new administration took office there's been a kind of backlash."
Quinlivan wanted to bring attention to violence committed against transgender individuals, particularly violence targeted against transgender women of color.
"I just felt a great sense of urgency. I'm very fortunate to be in (a) position (that) I never really thought I would be. It's really important to take advantage of a time like this," she stated.
She joined other transgender women who are pushing the envelope of diversity and representation in the fashion industry, including Filipino-American supermodel Geena Rocero, model-writer Hari Nef, and fashion week muse Andreja Pejić.
Growing up, she described the lack of role models for transgender youth like herself in mainstream media. The rise of Emmy-nominated transgender actress Laverne Cox and the coming out of Caitlyn Jenner were recent developments.
She also admitted feeling anxious about her revelation and what it might potentially do to her career.
"I'm definitely a little bit nervous, because I've been presenting as cisgender (a person who identifies with the sex they were assigned at birth) for so long," she clarified. "Since I transitioned when I was 16, I've been living as a cis female … I was very lucky, because I won the genetic lottery — I looked a certain way and my voice hadn't dropped. That privilege gave me a lot of confidence to walk down the street, date and (work) in the fashion industry, where people I would presume I was a 'normal' girl."
Despite her worries about the potential backlash she may receive on the Internet, she remained positive.
"But when you come out as transgender to the world, on a platform, there may be some backlash. People might be violent against me because of something I never chose. That makes me nervous, but I'm really excited to share my story with the world. My optimism outweighs the fear," she said.
Her announcement received warm support from the fashion industry and the LGBT community.
American fashion designer Marc Jacobs declared he respected, admired, and supported Quinlivan's stunning revelation of her transgender identity. He then encouraged everyone to support the LGBT advocacy, and to use their voice to inspire acceptance, equality, understanding, and love.
Sarah Kate Ellis, president of GLAAD, a U.S. non-governmental media monitoring organization founded by LGBT members working in the media, said that Quinlivan was sending a message to transgender youth that they can and should aspire to become whatever they want to be.