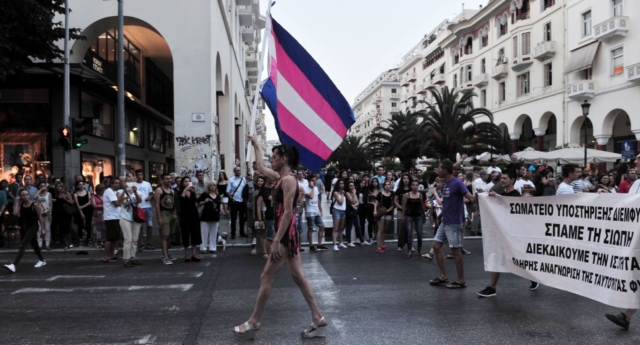 On September 27, we reported that a bill to allow legal gender recognition for all individuals with gender identity issues was pending in the Greek parliament.
Yesterday, it was successfully passed with 171 of 300 legislators voting in favor according to ABC news report. The country now grants people over the age of 15 to have their identity cards and other official documents reflect their gender identity with a simplified court proceeding.
Previously, people who wanted to have their gender markers changed in official documents are required to undergo sex-change operation and psychiatric tests.
The controversial bill has been roundly denounced weeks leading up to the voting by certain sectors in society including the government's junior collation partner, right-wing Independent Greek party, and the Orthodox Church.
Some legislators voiced out their fears that the law might be taken advantage by men to avoid compulsory military service.
"This … bill is extremely provocative for the core values of society, threatens to dissolve family as an institution and actually undermines and underestimates the value of each and every human being," Haris Konidaris, spokesman of Greek Orthodox Church head Archbishop Ieronymos, stated.
On the other hand, the news was welcomed positively by many parties particularly the transgender community.
Euronews reporter Apostolos Staikos commented, "Prejudice, racism, marginalisation. For decades, this has been the everyday life of transgender people in Greece. Some political parties and the Church strongly disagree with the bill. But for the transgender community, this is a first, big step leading to a better life."
For trans woman Anna Kouroupuo, 53, the vote was a huge positive step. She told ABC, "The world of a trans person won't change that easily, but it will improve the daily problems and humiliations suffered by her community."
She shared that everyday transactions can be traumatic experiences for transgender people. They can be humiliated and held on suspicion when travelling, visiting banks, buying tickets for public transportation, and picking up post office parcels especially after presenting passport and identity cards that do not reflect their gender identity.
She continued to discuss that transgender people will now have security, access to the healthcare system, and enjoy the same basic human rights that are granted to people the minute they were born.
Among the many positive benefits the new law provides, Kouroupou said access to jobs will make a difference to transgender people.
"Transgender people will be able to find jobs, and they won't be forced to go out onto the streets and into prostitution, as my generation was, and previous generations," she said. She underwent hormone therapy at age 17 and sex reassignment surgery abroad at 24, and worked as a prostitute for 30 years.
"Today's reform is a hard-won victory for transgender rights activists in Greece who have fought for equality for transgender people for years," said Fotis Filippou, Amnesty International's Deputy Europe Director. "It sends out a clear message that no one should be forced to go through medical procedures in order to be officially recognized for who they are."